Social Brain Building Summer Camp
SOCIAL BRAIN BUILDING SUMMER CAMP
Could your child use a boost in their Social Brain Building this summer?
CSC is looking for campers, ready to use their imagination to set out on a Social Brain Building summer adventure.
PREPARING YOUR CHILD FOR RE-ENTERING THE CLASSROOM IN THE FALL
Children who struggle with self-regulation and flexible thinking in kindergarten or 1st grade often enter the next grade level with anxiety around:
Making transitions
Managing big feelings and energy levels
Talking out of turn or grabbing
Negotiating and compromising
"Plugging in" to group plans and processes
Children want to belong, to feel connected to their peers, be able to solve problems and effectively use spoken language to share ideas. Kindergarteners and first graders work hard to learn to handle activity, transitions, attend and self-regulate big feelings and big energy.
Parents work hard too, endeavoring to learn the best ways to support a child's social-emotional growth, while maneuvering along their road to academic success.
With children and parents in mind, Child Success Center's Melissa Idelson and her team of skilled therapists have teamed up with, Patty Ramsey, LMFT to develop….

… a play-based, week long summer enrichment camp for children ages 6-9, designed to boost social/emotional learning, with integrated parent education and support.
Children will use their imagination to build their "campsite" in the CSC sensory gym, and problem solve camp themed scenarios, like what they would need to pack for a camp adventure, how they'd get there and what they would eat.
What will we do if pirates come and try to steal our camp space? How do we share a camp space with creatures or other campers? What do we do if we feel scared to try something or if we get really excited?
Our therapists will become "camp counselors" guiding campers to create a summer camp adventure of bird watching, wildlife spotting, river crossing and story telling, all while providing them with a fun, safe and nurturing environment to practice kid-friendly social strategies and experience successful outcomes. Campers will grow and learn while having fun building their social-emotional attention and group dynamic skills that will set them up for successful relationships in first and second grade.
Parents will be provided with ways to help support their child's ongoing social learning at home, and with a parent education session with Patty Ramsey, LMFT will be offered at an additional fee (see below).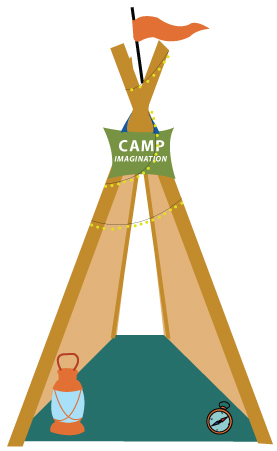 Date: August 8-12, 2022
Age range: 6-9 year olds
Time: 8:45 AM – 12:45 PM
Cost: $825
Early bird: $795 until May 1st
Location: Pacific Palisades Satellite Gym
We recommend booking a 1:1 session with camp facilitator after completion of session. This time will be spent discussing how parents can support long term social brain development, and help child use learned tools at home and in school.   
Cost: $190
Nas' Bio:
Nas is an associate MFT and has over 10 years of experience in early childhood development. She received her BA in Cognitive Science/Psychology from UC Irvine, and a Master of Arts in Counseling Psychology with an emphasis on Marriage and Family Therapy. She has experience working in school settings as a Behavior Specialist and an Intensive Behavior Interventionist, helping students with special needs and behavioral challenges including, but not limited to, ADHD, Oppositional Defiant Disorder, and Autism Spectrum Disorder. She also earned her practicum hours as an Emotionally-Related Mental Health Services Specialist, working in a public school district, where she taught social skills to classrooms, assisted with IEP's, and offered individual therapy to students with social and behavioral challenges in academic settings. She currently does academic tutoring with elementary aged students, while assisting them with following directions, staying on task, regulating emotions during difficult assignments, and teaching them coping strategies. Nas has a passion for working with children and adolescents, supporting them as they strive to reach their personal goals.
SPACE IS LIMITED! Call 310.899.9597 to learn more or email officemanager@childsuccesscenter.com for assistance with enrollment.
>Click to Read: Preparing for 1st and 2nd Grade – Social Learning
>Click here to learn more about Social Brain Building at Child Success Center.
2019 CAMP RECAP: 
Designed for children entering 1st grade in the fall, this camp invites children to exercise their imaginations, and role play while having fun building dynamic social skills that prepare them for successful relationships in 1st grade…and life!  Our 2020 camp program, due to Covid restrictions, didn't really happen as planned. But you can read more about how camp went in 2019 on our blog.