Occupational Therapy Process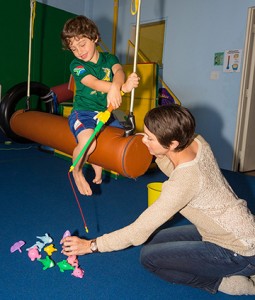 If a child is experiencing delays in the foundational skills required for the occupations of childhood, playing socializing and learning, therapy will help to improve these skills, while increasing comfort and self-esteem. Our Occupational Therapists' goals are to help the child become comfortable, independent and proficient in these areas of their lives.
All intervention is one- to-one and individualized to each child's specific needs. At Child Success Center®, we work closely with parents, teachers, and other therapeutic professionals to implement the most comprehensive and effective program of therapies . By working as a team, your child is afforded the greatest opportunity for progress and development. After the assessment and record review, a program will be recommended.
Phase 1: Preparing to Listen, Look, and Learn
For many children the program will be designed in two phases. These phases can occur concurrently depending on the age of the child and the functional needs identified. Phase I will focus primarily on foundational processing skills (including sensory processing, motor planning and sequencing, self-regulation and joint attention, visual and auditory processing, and social skills). This prepares the brain for listening, looking and learning – and helps the child go on to be a more efficient learner.
Phase 2: Succeeding at School
During Phase II, we focus on building the learning skills for success at school, including letter and number identification, sound symbol matching, handwriting, visual motor coordination skills, attention maintenance and social learning. Many children who struggle with sensory processing delays require additional instructional support with learning to read, comprehend, spell and solve mathematical problems. Our therapists will make any necessary referrals.
Child Success Center's occupational therapeutic process blends approaches from Sensory Processing, The Greenspan Floortime Approach™ and Social Thinking® (Attributed to Michelle Garcia Winner as creator of the Social Thinking Methodology). Floor time uses playtime to excite a child's interests, draw her in to connect, and challenge her to be creative, curious, and spontaneous—all of which move her forward intellectually and emotionally.
As part of the occupational therapy process, we reach out to the people in the child's life outside of the family – including teachers and other professionals – to support the generalization of skills and abilities across a variety of sensory-rich environments.
This program, including its teacher or leader, is not affiliated with, nor has it been reviewed, approved, or endorsed by Michelle Garcia Winner and Think Social Publishing, Inc.
PAGE IS UNDER CONSTRUCTION: