Whole Brain, Whole Child
Parenting with the Brain in Mind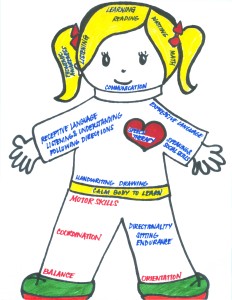 As parents, we are generally quite able to identify and seek help for our children when they experience a physical challenge. Yet it is quite common for us to struggle to identify early when our children might be struggling with social, emotional and/or learning health. Getting to know your child's brain is one of the most valuable gifts you can be given.
Our Child Success Center® team of pediatric professionals are passionate about discovering how your child processes his world. We then share that information, teaching you and others in your child's sphere how to help them thrive. With this knowledge at hand, families will find it easier to provide an environment that is conducive not only to learning, but to peace of mind.
Building a Foundation to Learning Success
Early identification and Intervention
Early identification and intervention can remediate existing developmental problems and/or prevent their progression. If a child nervous system is immature in the development and learning process, an assessment will show that the foundational neurological processes are in place and that time and enrichment are what is needed. At this time therapy may or may not be recommended. However, if a child clearly shows gaps in his foundation for learning, help will be needed to close the gap and send him down a positive pathway to success.
Components of Learning Success
There are many components of learning success. When executive function, visual-spatial processing, motor planning, language processing, sensory processing and auditory processing are working together in a balanced neurological state, a child displays not only educational skills, but also the attention, logical thinking and social/interpersonal skills that lay the foundation for them to meet their potential
It is important to remember that no singular skill on its own warrants intervention and therapy, and that development and learning issues aren't often expressed singularly. If your child needs therapy, we help lay the foundation for learning and build the skills that your child's brain needs to do on its own. Therapy will create a positive environment coupled with the "just right challenges" for learning to occur. For many children, this support gets their lives back on track for successful outcomes and long-term opportunities.