Executive Function
What is Executive Function?

Executive Function is the ability to attend, organize time and resources, understand different points of view, prioritize, stay on task, and self-regulate and self monitor in order to achieve a desired goal.
When Does Executive Function Develop?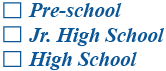 Children have developing brains with the potential to learn Executive Function skills, a process that begins in the pre-school years.
Executive Function is grounded in movement before it can be manifested in thought; impulse control and joint attention.  Therefore, if a child is struggling in the early developmental years with sensory motor processing and/or learning challenges, they are at risk for experiencing Executive Function Disorder. It is imperative that children are assessed and challenges identified during the pre-school years,  then provided with the support they need to establish the building blocks of Executive Function through sensory integration techniques, giving the child's brain the opportunity to begin developing early Executive Function skills.  Support at home, in pre-school and in other environments they frequently experience will provide children with the opportunities to practice necessary skills in a facilitated manner before they must perform them alone.
Executive Function is a learned set of skills that a child will begin to develop early in the pre-school and elementary school years with the "job of childhood".
Job of Childhood: Learning how to organize the body in space and to collaborate physical, social/emotional and communication/language platforms with the environment and peers in order to prepare brain for higher level learning in junior and high school. 
Video below from Center on the Developing Child at Harvard University
---
What is Executive Function Disorder?
When a child exhibits a pattern of chronic difficulties in executing daily tasks, staying on task, or organizing his world, he may be experiencing Executive Function Disorder (EFD), and may benefit from therapeutic intervention.
What percentage of children will encounter challenges with Executive Function?

About 20% of children will encounter challenges during these early years with the job of childhood.
What does Executive Function Disorder look like?

A child with weak Executive Function skills may encounter the following challenges:
impulsivity
frustration
biting/pushing/hitting
difficulty going to school or maintaining friendships
difficulty getting organized
difficulty remembering or completing things
difficulty with homework
immaturity
sleep difficulties
poor personal space recognition
hard to parent
If you recognize more than half of the above behaviors, your child may benefit from various strategies and supports at home and in school.
---
Breaking it all down – A look at each of the components that work together as Executive Function
Early intervention begins with parents being aware of their child's challenges, struggles and frustrations during any stage of their child's development and seeking professional assessment. At CSC we assess a child's Executive Function skills by looking at the following areas, then building the programs that support a young child's development in those areas.
PERCEPTION & REGULATION

,

better known as

Sensory Processing
The ability to receive and process, quickly and efficiently, information through our sense of touch, movement, smell, taste, sight, hearing and balance.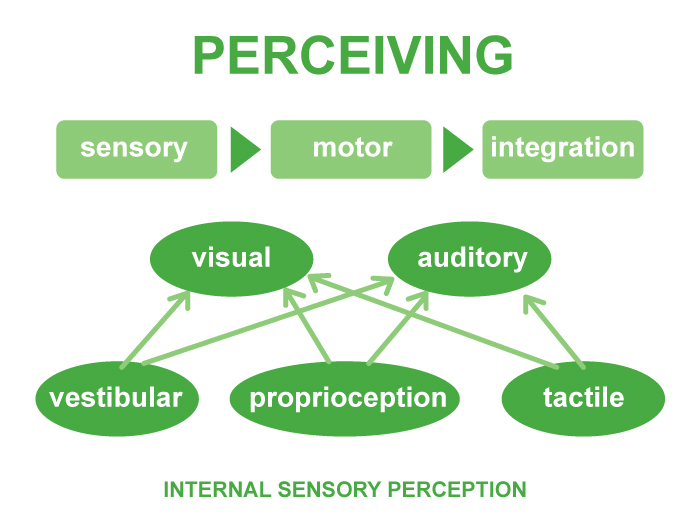 Regulation is the ability to filter, measure and organize sensory input so that the brain isn't under or overloaded. When a child's brain is bombarded with sensory information, but is unable to regulate or adapt to the given situation or environment, the child's perception and thus his response, may not be optimal and present as inappropriate behavior. This inappropriate reaction or behavior can also result in a negative outcome where the child is unable to successfully experience the learning or social opportunity at hand, and possibly viewed by parents and teachers as a learning disability or social skill deficit.

THINKING

 – Understanding a child's capacity to attend, participate and navigate their environment
Thinking is the ability to take what we know and what we've learned from past experiences, and apply that knowledge to adapt and navigate a new experience, situation or environment.
We often refer to this as social learning and becoming a "we thinker". Social skills are best learned in environments where opportunities are provided in which children can interact and collaborate, like in school or on the playground. However, if a child is suffering from underlying sensory processing, occupational or educational issues, organic social learning might not occur. In the case of a child that is reacting to a sensory overload, the capacity to stop and think before responding has been impaired.
Social skills programs, known at Child Success Center as Social Brain Building, are available to children who could benefit from facilitated social experiences, where children, either individually or paired "peer-to-peer", role play and interact with a therapist led examination of possible negative and positive outcomes.
>Click here to learn more about Social Brain Building 
ACTING

 – When the child's actions don't result in a positive outcome, it's time to find out why.
If perception, regulation and thinking are working together in an orderly and cohesive manner, the resulting actions will be positive and appropriate, and "order" is maintained. If they are not, chaos or disorder ensues.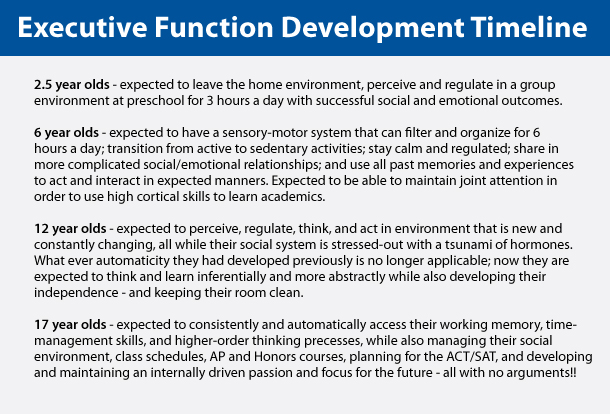 ---

How Child Success Center Can Help

 

The Child Success Center's team of highly trained therapists address and support the development of Executive Function skills in the early learner as well as teach, guide and facilitate Executive Function development in the middle or high school child.
Many children with early developmental delays, learning difficulties and behavioral challenges struggle with developing Executive Function.
We help all children who are struggling with the "jobs of childhood", including those diagnosed with ADHD, Learning Disorders, Sensory Processing Disorders, Executive Function Disorder, Dyslexia and Speech and Language disorders, and on the Autistic Spectrum.
The earlier the framework is developed and caregivers are educated and provided with strategies to help their children develop EF, the fewer challenges those children will have in higher levels of education.
In the early years of life, a child's experience with the world is primarily "motor". If there is any delay, inefficiency or lack of automaticity with the sensory motor system, the foundation for learning in other areas becomes compromised. A trained pediatric Occupational Therapist is vital to assessing a child's sensory motor processing and self regulation, to determine and identify underlying developmental issues, so that early intervention therapy can be programmed to facilitate long term remediation. An OT can support a child by helping him to become comfortable, independent and proficient in the areas of perception, self-regulation and social brain building.
Our Speech and Language Pathologists utilize social learning strategies as part of the Child Success Center's Social Brain Building – Peer to Peer program, which in turn leads to the support of Executive Function acquisition.
For the pre-school aged child, a combination of occupational therapy and speech therapy is often recommended.
For older children, an Educational Therapist can be critical in helping to determine how a child learns, and providing EF skill building strategies that will best suit his learning style. Child Success Center uses an effective and proven program based upon the Sklar Process™ that helps your child learn and understand time management and executive functioning skills that are critical for success in all aspects of life. An Educational Therapist who is trained in this life-changing curriculum will administer the sessions, designed to foster effective behavioral changes for improved time management and organizational skills that will last a lifetime. 

What are the Signs in a Child That May Indicate the Need for Therapeutic Intervention? 
Behavioral Issues
Communication Issues
Body Movement Issues
Educational Issues
Types of Therapy Available at Child Success Center
---
Are you looking for some strategies you can use at home? 
Tool Box – What tools does a parent need to help their child with Executive Function Disorder?
Perceiving: Be aware of what kind of sensory stimuli are part of your child's environment, and your child responds to that stimuli. 
Regulation: Use sensory tools to help your child move to a calm and focused state. Co-regulate with your child by adjusting delivery of reaction/responses to your child via body language, voice intonation, and emotions, to help child move to a calmer state where they can think, sequence and act.
Thinking: Review, narratively, with your child a sequence of events, without judgement or negativity. Provide a "walk-through", empathetically describing how the sequence of events might have occurred to result in the desired outcome.
Acting: Help your child achieve a positive outcome.  Help the child see where breakdown occurred if there was not a successful outcome, then create opportunity to re-do or creaste a successful outcome.
The outcome of perceiving, regulating and thinking, is order, success and a happy child.
Challenges with Executive Function affect the child and everyone around them. Child Success Center is here to help you and your family get there, one step at a time.
If you need help, give us a call today. We look forward to hearing from you.