Friendship Club Social Skills Enrichment Program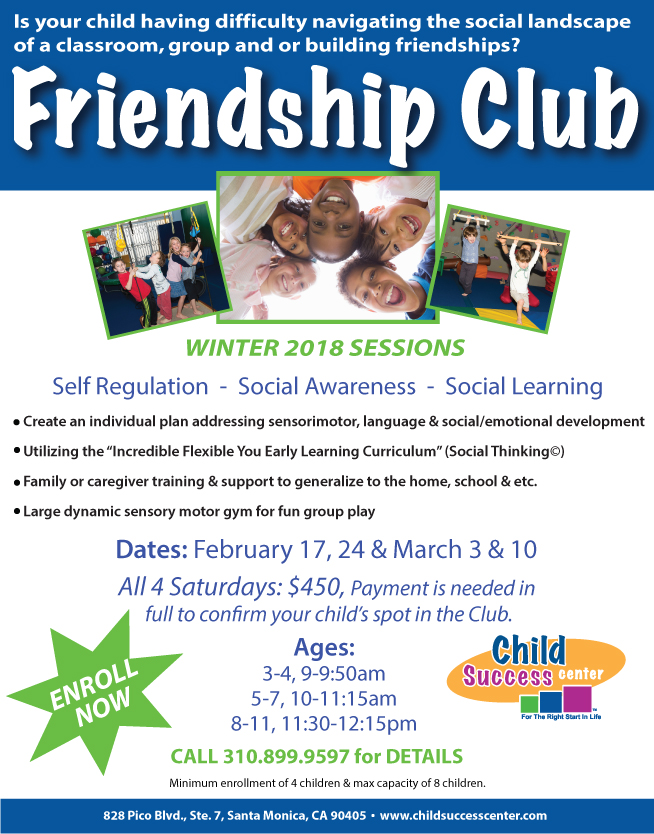 (future schedule below)
Friendship Club Overview
Who is Friendship Club for?
Child Success Center's Friendship Club is designed for the child, ages 3-11, who is having a difficult time navigating the social landscape of the classroom or group setting and/or building friendships.
The small groups also work well for the child who needs a structured social environment to strengthen and master communication skills. Growing and learning to engage with others in their universe can be confusing or overwhelming, causing undesired behavior and coping skills. Research shows that a common language, similar boundaries, and expectations of a child across all environments aid a child in feeling safe and increasing desired behaviors.
Where is Friendship Club held?
The Child Success Center's indoor gym environment provides opportunities, through physical play experiences, to facilitate social engagement. The children enjoy a variety of fun gross motor activities, including swings, rock wall, zip line, trampoline, pillow pit, monkey bars and more!
By developing an individual plan that considers your child's strengths and challenges in the areas of sensorimotor, language, and social/emotional development, our trained staff can create a safe environment for your child to take chances, and explore social development.
How are positive social behaviors developed?
The program is designed to use a multimodal approach of positive reinforcement, flexible behavior systems, floor time aspects, mindfulness practices, and the Social Thinking curriculum, "We Thinkers – Social Explorers™" for early learners.
Some children do not have the internal motivation to join or sustain attention in groups. These children benefit from external reinforcers and praise. As part of the fun we implement a behavior reinforcement system of rewards and natural consequences.  Each day, your child will have the opportunity to earn "Friendship Bucks", redeemable for prizes from our treasure chest at the end of each group session. Rewards provide external motivation to try non-preferred or difficult activities, and reinforce desired behaviors.  Group members are encouraged to try new activities and participate, and once they have had a positive experience, it creates an internal motivator to continue that same choice.
Your child will acquire social skills tools through stories, art, structured games, collaborative projects, and guided small group play.
How do I know if Friendship Club might be right for my child?
Your child may be a good fit for Friendship Club if he/she is experiencing any of the following difficulties in:
greeting others, initiating, and maintaining conversations
expressing opinions and feelings
joining in play with peers
sticking with group games
not going first or losing
sharing or taking turns
giving sustained eye contact
using the appropriate volume at home/class/outside
regulating tone of voice
reading non-verbal social cues (facial expressions, body language)
invading other's personal space
problem solving with adults
conflict resolution with peers
with impulsivity or interrupting others
Does your child…
Appear lonely?
Get picked last?
Have a difficult time joining and staying in groups?
Act overly silly to get attention?
Have tantrums that get them excluded from social situations?
Appear to have low self-esteem?
Goals of Friendship Club
Self-Regulation
Your child will:
Gain experience in regulating their body in-group settings during group games in the Child Success Center gym, designed to support sensory motor regulation.
Gain emotion regulation skills, and will be able to identify basic emotions and practice coping mechanisms to use in-group play.
Practice regulating their voice and work on practicing their inside/outside/speaking/playing voice.
Practice being aware of their body and attention in performing in context to the environment.
Social Awareness
Your child will:
Play group games that will facilitate social thinking.
Practice looking at what others are looking at, and thinking about what they are thinking about.
Practice perspective-taking and seeing things from others point of view.
Become a "Social Detective" and search for social clues about what others are thinking or feeling.
Social Skills
Your child will:
Fill their tool belt with skills that will help them in their everyday classroom such as being "flexible" and meet our hero "Super Flex" who can transition from task to task.
Practice "ignoring" social situations or people who are bugging them.
Be positively reinforced for following the rules and directions from adults.
Be positively reinforced for "good sportsmanship" and practice giving compliments and being part of a team.
Practice greeting others and other social nuances.
Is there parent involvement?
A parent meet and greet session is held for one hour at 7pm the Thursday before group begins, and there is an hour parent information session at 7pm on the Monday directly following the group.  These sessions are imperative, as success with social skills is dependent on generalization at home and school settings.  Weekly updates regarding your child's participation and progress are emailed within 24 hours of group.
Individual family consultation or school-based consultation can be discussed after a four-week group attendance.
We help our Friendship Club Members to learn flexible thinking, perspective taking and self-regulation they need to make and keep friends. We offer help to their families as they add to their "tool belt", and focus on giving parents and care takers the tools in order to support their child's growth.
At the end of each full group session (4 weeks), you will be provided with a summary packet of the activities along with suggestions or scripts of how to continue to use skills at home.
Individual parent meetings can be scheduled for an individual consulting fee, please contact facilitators for more information.
4-Week Friendship Club Sessions
Students learn the fundamentals of thinking socially, regulating their own emotions, and problem solving with others in small, developmentally-matched, weekly groups that run 4 consecutive Saturdays for 1.5 hours, generally 9:30am-11am.  Families are expected to commit to attending 4 sessions in order to create an effective play-group environment.
Ages:
3-4 years old, 5-7 years old & 8-11 years old groups forming *Ratio of Child to Adult is 4:1
Enrollment:
Call the Child Success Center – 310.899.9597 to enroll now.
Cost:
$450.00 – 4 Saturdays in a row.
Important Documents:        >Parent Packet    ~    >Intake Packet    ~    >Referral Form
2017 Friendship Club Schedule:
Winter One 2017-18 – 6 weeks Dates: December 2, 9, 16, January 13, 20 & 27 >winter 1 flyer
Winter Two 2018 – 4 weeks Dates: February 17, February 24, March 3 March 10 flyer >winter 2 flyer
Spring One 2018 – 4 weeks  Dates: April 7, April 14, April 21, April 28 >spring 1 flyer
Spring Two 2018 – 4 week  Dates: May 12, May 19, June 2, June 9
Summer One 2018 – 4 week Date: July 14, July 21, July 18, Aug 4
Times:
Ages 3-4, 9-9:50am
Ages 5-7, 10-11:15am
Ages 8-11, 11:30-12:15pm
Winter 1, 2 or Spring Club must be paid in full regardless of missed sessions. Individual sessions are not available to purchase.
Instructor: Patty Ramsey, M.A., LMFT MFC 99030
SaveSave
SaveSave
SaveSave
SaveSave