Social Thinking
Social Thinking™ is what we do when we interact with other people: we're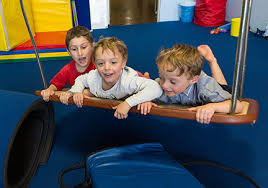 thinking about them, and we take in their thoughts, emotions and intentions. It's a circle of communication – how we think about people affects how we behave, which in turn affects how others respond to us, which in turn affects our emotions. Most people acquire social thinking as a natural part of development. For many kids, this process is anything but natural.
Social Thinking challenges can affect any child.
While social thinking challenges are commonly experienced by individuals with autism spectrum disorders, Asperger's, ADHD, nonverbal learning disability (NLD), sensory processing challenges and similar diagnoses, children and adults experiencing social learning difficulties often receive no diagnosis. In fact, many people score high on IQ and standardized tests, yet do not intuitively learn the nuances of social communication and interaction.
Social Thinking strategies improve social interaction.
Child Success Center

®

professionals use the Social Thinking™ treatment framework and curriculum.
Social Thinking strategies teach individuals:
How their own social minds work; why they and others react and respond the way they do
How their behaviors affect the way others perceive and respond to them
How this affects their own emotions, responses to and relationships with others across different social contexts.
>Learn more about Social Thinking