Speech Therapy
Helping Children Communicate With Speech Therapy

Although the stages children pass through in the development of speech and language are consistent, the exact age when they achieve these milestones varies. Factors like a child's natural predisposition for language learning, exposure to language, and how caregivers and peers interact with them can slow or accelerate the speed of speech and language development. Speech and language development issues can lead to reading and writing difficulties, impeding a child's ability to enjoy learning and to experience successful academic outcomes.
The development of communication skills begins in infancy. Any communication issue is likely to have a significant effect on the child's behavior and academic achievement. Early milestones are essential for effective learning and academic success.  Some children need a helping hand in achieving them.  The earlier a child's speech and language problems are identified and remediated, the less likely it is that problems will persist or get worse.
At Child Success Center® our team of licensed and certified Speech-Language Therapists offers insight into your child's speech and language development, and screens for early warning signs of communication disorders. Each child is given a speech and language assessment to determine the issues at hand, then develop and implement an individualized play-based speech therapy program. Our goal is to support and empower you and your child through this developmental journey.
Common Speech Disorders
We treat a variety of speech-language deficits at Child Success Center. The following provides a brief overview of the most common types of communication disorders: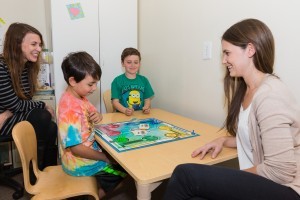 Receptive and expressive language delay or disorder
Autism spectrum disorder
Apraxia of speech
Auditory processing disorder
Articulation disorder
Phonological speech disorder
Social/pragmatic disorders
Stuttering
Voice disorders
Literacy and writing delays
Our speech-language pathologists can also provide therapy to children with hearing loss, chronic otitis media, feeding difficulties and oral motor weakness.

Related: Why does my child drool?
Drool production in infants is linked to the development of the digestive system. Increased production of saliva, and subsequently drool, is often a sign that your baby is ready to try solid foods. Adults manage saliva through consistent swallowing without even thinking about it. However, babies do not develop full control over the swallowing muscles until between 18- 24 months. After the age of 2, the muscles of the mouth have developed enough to manage saliva and prevent drooling or excessive accumulation within the mouth. If you notice drooling or pooling of saliva in your child, this may be a sign of low muscle tone or swallowing difficulties. A comprehensive evaluation with a Speech-Language Pathologist can determine if treatment is warranted.
________________________________________________________________________
Child Success Center Director, Melissa Idelson – How to Know
When to Consider Speech Therapy for Your Child – Video
"If your child is struggling using his language to communicate, that is the time to consult with a speech and language pathologist."
For more videos from Melissa Idelson visit KidsInTheHouse.com