Pediatric Occupational Therapy Evaluation
Intake and Assessment Process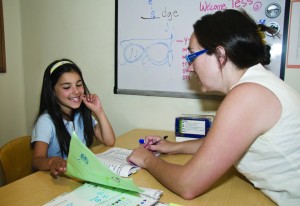 The intake process for a full assessment begins with the parents completing a developmental history, sensory profile and administrative forms. For specific assessments such as feeding or educational therapy, additional intake forms may be required. The family should feel free to send us a narrative email that includes as much information as possible to help us get to know their child before the assessment.
It is also helpful to know the child's strengths and challenges, likes and dislikes, behavioral strategies, and play and attention patterns. We can never have enough information. Remember you are the expert when it comes to your child, and we are here to co-captain the journey. Sharing information is vital for success.
The intake process is required for entrance into any Child Success Center® program. Through assessment, we ensure the best and most efficient programs and strategies are provided from day one, tailored for each individual child. (If you have a recent evaluation and wish to use it, contact the Child Success Center for further details.)
Occupational Assessment
For children who are struggling with the many "jobs" of childhood, including play, learning, and interpersonal and social connectedness, we may recommend an occupational assessment. In a full occupational assessment we have two clinicians present. One is assessing the child, the other is observing, documenting and feeding back in real time what is going on to the parent. >Learn more about Occupational Therapy. 
Speech and Language Assessment
If your child is having difficulties understanding or communicating, is working harder than necessary with playing and learning, or is struggling with peer interactions, a speech-language assessment may be recommended. A speech and language assessment involves one clinician evaluating your child, then scheduling a follow-up conference with the parent. >Learn more about Speech and Language Therapy.
Educational Assessment
Educational assessments focus on the areas of reading, writing, math, attention, memory and overall learning and organizational skills. Testing batteries provide information regarding your child's overall academic achievement and identify any foundational learning/processing struggles that may be creating challenges in overall academic success. >Learn more about Educational Therapy.
Behavior Therapy Intake Process
If a child's behaviors are interfering with your child's ability to access their education or other therapeutic services, create meaningful friendships, or function within their family unit- behavior therapy may be able to help a child and their family.  Behavior Therapy starts with a thorough paper intake process before parents meet with a Licensed Marriage Family Therapist to assess the family and child's needs.  Once an intake is completed, the therapist may work with the parents, child, or a blend of both depending on the treatment plan. >Learn more about Behavioral Therapy.