COVID-19 Update and Tele-health Zoom Sessions
CSC COVID-19 UPDATE and TELE-HEALTH

Our children need us now, more than ever, to keep them developing and learning and moving forward. We are all having to do many things differently and we want you to know we are here to help support you and your families. If you or someone you know is struggling, call CSC to schedule a complimentary parent Zoom consultation. 
Our office and all members of our therapeutic team are here for you, working remotely, and in one-on-one sessions in our sensory gyms, (Santa Monica and Pacific Palisades),  providing the resources and support you need at this critical time.
Dear Families,
IT TAKES A VILLAGE FOR SURE!
As parents and therapists, we know deviation from routine can be hard on us and on our kids.  Children rely not just on routine, but community as well. We realize our therapists have become an important part of your child's community, and to that end we are now offering tele-therapy sessions via Zoom in addition to one-on-one sessions in our fully equipped sensory gyms in Santa Monica and Pacific Palisades.
If you are a current client, your therapist will continue to check in with you and discuss options to help support you and your family.
If you are looking for educational support for your child while schools are closed, Jennifer Feldman, our Director of Educational Services can schedule a call to discuss how we can create and implement an in-home curriculum.
If you are not a current client, but you or someone you know is struggling, please call us to schedule a short complimentary consultation. 310-899-9597
Occupational therapy, speech therapy, educational therapy and behavior therapy, can help with:
– online homework, tests and quizzes
– support for students who struggle to navigate the online environment
– setting up academic enrichment activities for your home
– creating routines and daily schedules to build executive function
– Social-Emotional support for students who feel lost in the online classroom
– Kindergarten readiness support
– all areas of academic support
– speech and language support (including handwriting)
– self regulation and sensory processing activities to survive cabin fever
– parent, family and individual mindfulness sessions
– "re-entry" into school and "social world"
We hope you will turn to us and our highly skilled team of therapists as we lean into a new way of supporting your children. Our team is proficient at assessing and creating individual plans for each child, meeting them where they are, and providing the "just right" challenges to foster growth, development and success.
We have been and will continue to follow the lead of the CDC in regards to best safety practices as we remain open and available for our families.
We will  be updating this page to keep you informed on our latest status. We look forward to seeing you via Zoom or at one of our Centers!
Please stay connected with us on Facebook, Instagram and You Tube. We are sharing daily tips, info and videos of home activities to help you keep your child happy, moving, developing and learning!
Warmly,
Melissa and the CSC team
Note: Text above updated and image and info below added January 16, 2021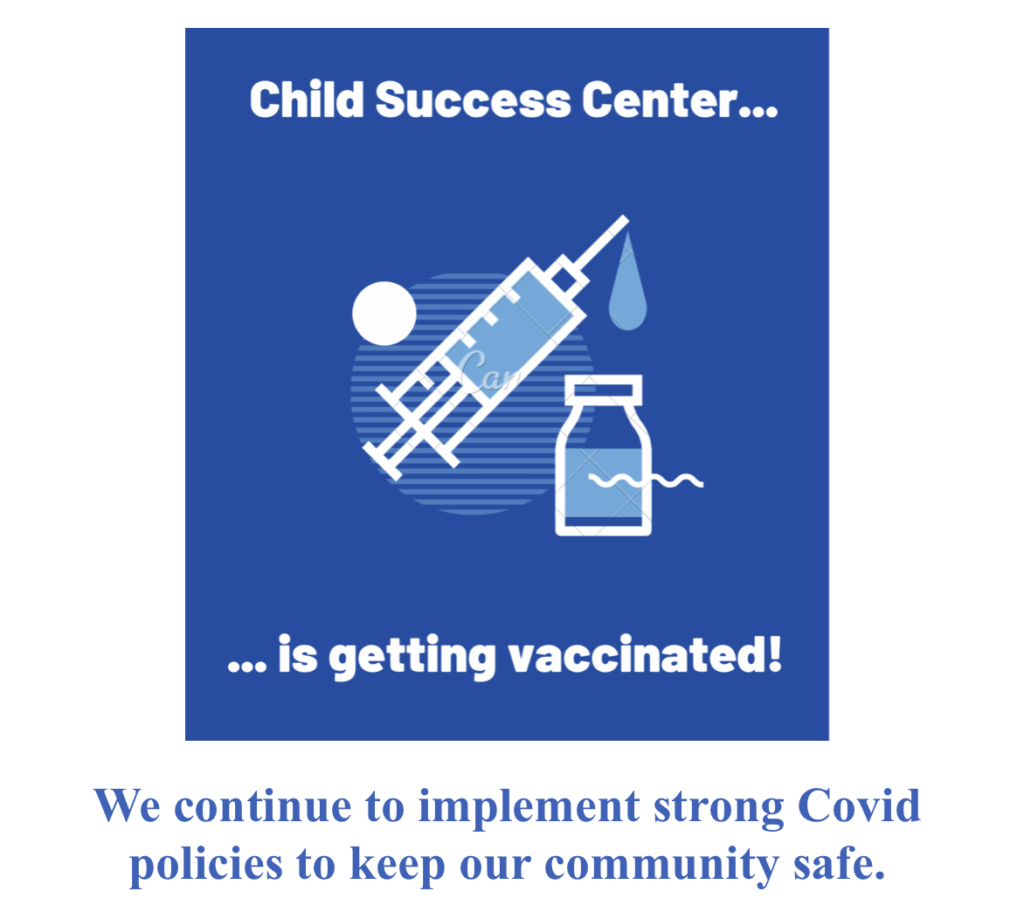 This last week our CSC team of therapists was vaccinated!
It is such a relief to finally see some light at the end of the tunnel. While it's a wonderful and important "first step", we want to assure you that we are still following all CDC guidelines to keep our entire Child  Success Center community safe.