CSC Blog
An occupational therapy session is work for a child's brain, disguised as play.
A child's "occupations" include everything he or she does throughout the day – the "jobs of childhood" – the most important jobs being playing, socializing, and learning. The purpose of pediatric occupational therapy is to help a child become comfortable, independent, and proficient in these areas of their lives.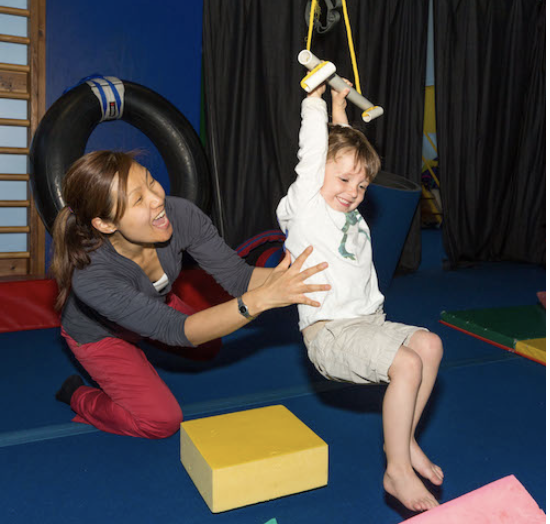 Occupational therapy addresses a variety of areas of deficits including fine motor skills, gross motor skills, social emotional skills and sensory integration. Initial therapy sessions help the therapist to understand the unique wiring of the individual child's brain and nervous system. The therapist will consult with the child's parents to ascertain what home and school life are like for the child, and what they have observed in their child's development. This evaluation and analysis process will continue across subsequent sessions as the child's nervous system develops.
Each occupational therapy session is tailored to meet the child's specific needs, facilitated in a warm and comfortable environment, and created to reflect the child's interests.
Sensory processing, or organizing, is how a child learns and experiences the world around him. "Just right" sensory experiences during the therapy session will help the child with emotional regulation, self-regulation and social engagement. Intact sensory integration provides the fundamental building blocks for attention, emotional development, motor skills development and higher-level academics and social skills.
An occupational therapy session, utilizing a sensory integration treatment approach, will often target the social-emotional system, employing the Zones of Regulation, Floortime and Social Thinking® (Attributed to Michelle Garcia Winner as creator of the Social Thinking Methodology) programs. Covered would be social skills concepts such as staying with the group, taking turns, collaborative play, and interacting with peers and adults, in order for children to be successful in relationships and group environments.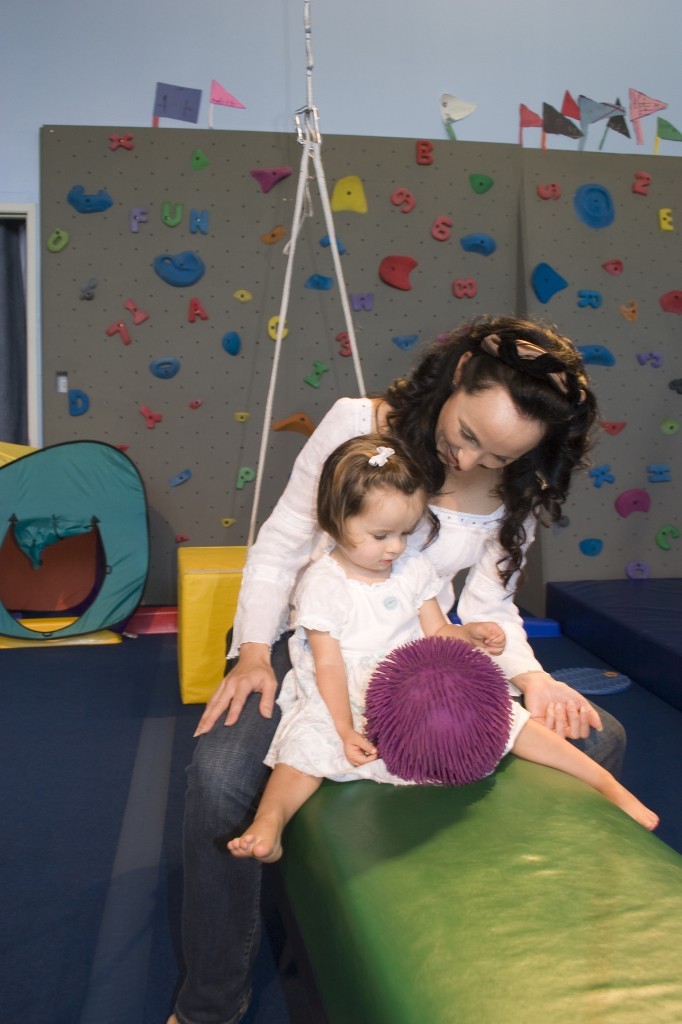 Occupational therapy may work on fine motor skills such as grasp and in-hand manipulation, necessary for drawing, coloring, folding and cutting. Visual motor integration, the ability to use the visual system and the fine or gross motor systems together, and essential to activities such as handwriting, ball play and sports, may be addressed.
An OT session might include work on gross motor skills that are involved in playing sports that require bilateral coordination, ball skills, strength, coordination and balance. The therapist will provide easy and creative activities and exercises to help increase upper body and core strength necessary for postural stability, balance, coordination, gross and fine motor control and will often provide a home-based program for follow through.
Often, children who struggle with Sensory Integration and are referred to Occupational Therapy have challenges with Executive Function Skills, necessary for learning and development. In order for a child to plan and organize what they need to do throughout the day, such as getting homework done, they need to be able to focus attention, filter distractions, remember and perform multi-step directions.
Occupational therapy is work for a child's brain, disguised as play. All children engaged in occupational therapy experience a new level of confidence and self-esteem that comes with learning a new skill or overcoming a challenge. The smile on their face will say it all.
This program, including its teacher or leader, is not affiliated with, nor has it been reviewed, approved, or endorsed by Michelle Garcia Winner and Think Social Publishing, Inc.
What are Behavior Therapy Services?
Parenting Techniques and Family Work
Some children are more challenging to parent than others.  Parents with multiple children say, "It wasn't like this with my other kids", or first time parents say, "My friends don't seem to have the same problems that we are having."  A set of parenting techniques used with one child may not necessarily work with another, based on individual differences in temperament, behavior and  developmental challenges.
There are research-based techniques that can provide help with the understanding and application of positive behavioral strategies for your child.  Topics include positive discipline techniques, difficult behaviors at home and at school, positive praise and attention, providing effective directions and transitional warnings, how to create and maintain a home-based token system, and effective conflict resolution and problem solving with your child.  For most families, behavior therapy begins with a series of meetings with parents to create a foundation for behavior interventions.
Individual Behavior Therapy – Child Based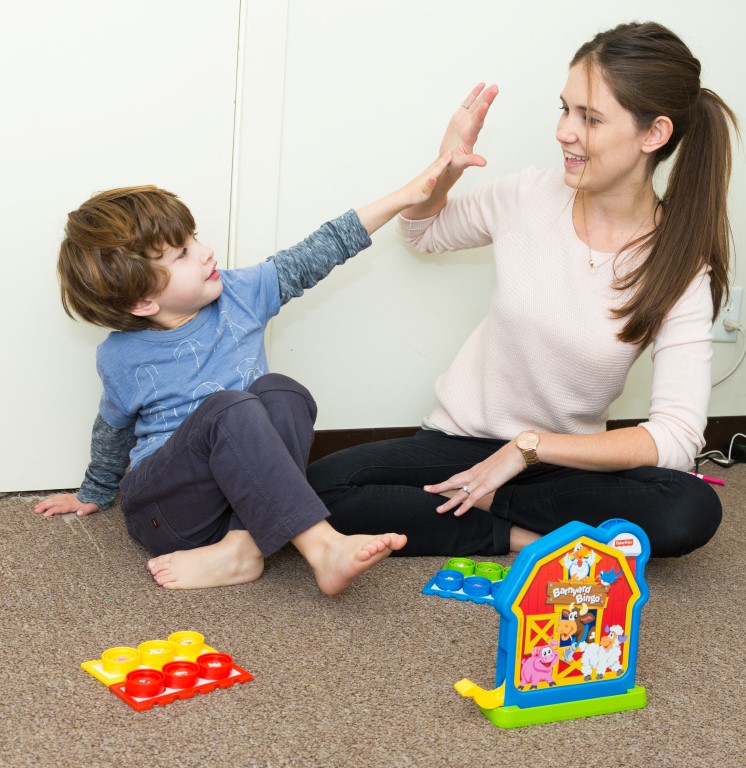 Once at least two parent meetings are complete, our therapists can provide individual behavior therapy for your child.  This therapy is generally play based and uses the Social Thinking® (Attributed to Michelle Garcia Winner as creator of the Social Thinking Methodology) curriculum to explore social concepts.  Individual Behavior Therapy is recommended for children that have a difficult time emotionally regulating in a group, separating from parents, or require more individual attention in learning and practicing social concepts than they would in a group setting.  Once a child has completed between 4-12 individual sessions, it may be recommended they practice their skills in a therapeutic two-person play session, or a group setting.  During these sessions, occasionally parents may be asked to join in on part of the session.
How Does Behavior Therapy Help at Home and at School?
Each child and family is different, and requires different techniques and tools.  The number of sessions above, indicate the average numbers of sessions for behavior intervention.  In order for behavior to change and generalize between settings, it is important to have effective communication between the adults in your child's life.  The more consistent all of the adults in a child's life are, the faster change is able to happen.  Being consistent becomes the most challenging part of behavior therapy for parents.  Receiving behavior therapy interventions can be equated as having a personal trainer at the gym. They hold you accountable for the behavior "work outs" that your family is going through, and provide support during the difficult times when you want to throw in the towel.  Once a positive behavior system that works for your child is in place at home, often times that same or similar system can be implemented in school to support your child.
Learn more about Behavior Therapy at Child Success Center.
This program, including its teacher or leader, is not affiliated with, nor has it been reviewed, approved, or endorsed by Michelle Garcia Winner and Think Social Publishing, Inc.
Friendship Club groups at Child Success Center are developmentally based and designed to give children an opportunity to practice social interactions with therapeutic intervention and coaching.

For some children, friendships are difficult to make- and even harder to maintain.  Friendship Club groups are developmentally based and designed to give children an opportunity to practice successful social interactions with therapeutic staff intervention and coaching.  Friendship Club uses positive reinforcement to help children stay motivated to join a group plan, be flexible with their ideas, and stick with social situations that are challenging.  Once a child has practice with positive social interactions, their confidence builds. Children are able to join groups easier, transition to and from activities, share their feelings effectively, and problem solve with their friends in order to create meaningful and long lasting friendships.  We use the Social Thinking® (Attributed to Michelle Garcia Winner as creator of the Social Thinking Methodology) curriculum to support social skills concepts, role play, engage in group games, and use art projects to facilitate social interaction. We use unstructured play in order to create scenarios similar to those children encounter at school, parties, and play dates in order to socially coach children through big feelings and conflicts.
The goal of Friendship Club is for children to increase their confidence and positive behavior skills to generalize to the home and school setting. Rome was not built in a day, and the same goes for children's social skills.  In this social skills based program, children benefit from being given the opportunity to practice effective communication in a supportive environment. Educating the adults in the child's life, and using the same social vocabulary in group, at home, and at school helps generalize the desired behavior changes and social interactions. Friendship Club members are physically active and challenged in a sensory gym environment, while being given a social skills curriculum that addresses both social needs and behaviors that may impede successful peer relationships.
It is the job of childhood to learn how to play and interact successfully. Friendship Club uses external motivation, a token economy system, to grow and learn positive social skills. Members "earn" Friendship Tokens they can use to "shop" in our prize bin at the end of each session. Over time, the need for external motivation decreases as the new habits increase and social reciprocity is achieved.
Summer is an excellent time to help foster the social growth of your child, especially for those moving from a pre-school to Kindergarten, or from Kindergarten to First Grade. The Child Success Center offers Friendship Club on weekends through the summer to help children and families stay on track with their social learning.
Learn more about Summer Learning Academy and Friendship Club on our website.
This program, including its teacher or leader, is not affiliated with, nor has it been reviewed, approved, or endorsed by Michelle Garcia Winner and Think Social Publishing, Inc.
A Kindergarten Readiness Program is designed, with the individual child in mind, to best prepare him to successfully enter school and joyfully manage the "job of Kindergarten".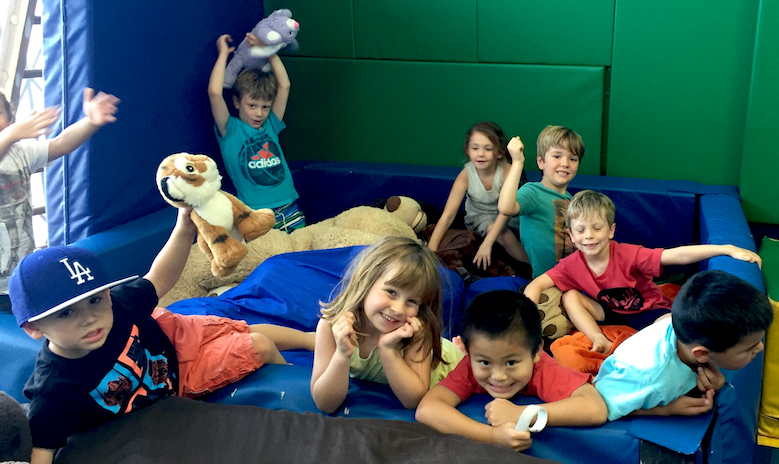 Each summer Child Success Center has the pleasure of helping children acquire skills to manage their "job of childhood" through our Summer K-Camp (Kindergarten Readiness Program).  K-Camp is the cornerstone of our Summer Learning Academy. Children entering kindergarten in the fall are facilitated by a learning specialist, who utilizes a curriculum designed by a team of occupational, speech and language, and educational therapists and psychologists. This unique curriculum has been carefully honed over the 7 years CSC has offered K-camp.  It addresses each child's unique strengths and stretches as they relate to kindergarten readiness and provides each child the opportunity to strengthen the foundations needed to successfully enter school and joyfully manage the "job of Kindergarten".
Our learning specialists understand how critical it is that the foundation of development and learning be well integrated and efficient over the first 6 years of life. They come to K-Camp with an intimate understanding of each child's learning styles. Our team gathers a history and is able to adapt the curriculum to create the "just right challenge" for each learner. More evolved reading, writing, spelling and math skills rely upon foundational attention memory, listening, language, visual and motor processing. Camp provides opportunity to grow in these areas as well as those of social learning, academic learning, gross and fine motor skill development, verbal communication, imagination and creativity, and the exploration of personal interests.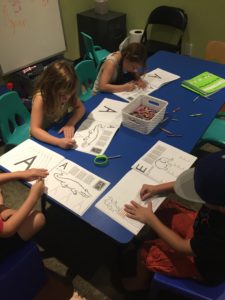 For children that have not attained pre-school level foundational skills such as the ability to wait, focus, attend, follow direction, easily adjust to new surroundings, collaborate, cooperatively negotiate in play, or are unable to grasp the relationship between sounds and symbols, K-Camp provides a fun, engaging and grounded environment where this foundational building process can occur via positive, successful social learning experiences.
Through a social learning lens, mindfulness-based practices allow the camper to explore group dynamics, practice transitions and develop skills to monitor changes in the environment. Skills are added to their toolbox for attending, being present and listening with their whole body, while creating a foundation for emotional balance.
CSC K-Camp is open to all children entering Kindergarten in the Fall, including those who have been in a preschool setting that has not exposed them to academic learning opportunities, those who have struggled with the job of preschool and those entering a new school setting which can be anxiety producing. In addition to preparing kids for a successful transition, K-Camp is a great time for socializing and making new friends.
The Child Success Center Kindergarten Readiness Program (K-Camp) has benefited many children over the past 7 years and their parents have been delighted with the results….
"I can't say enough about K-Camp. My daughter attended K-Camp for two weeks and it gave her exposure to early literacy and numeracy, as well as provided a structured day that really prepared her for the kindergarten transition. As a parent, it gave me peace of mind that she would be ready to take the next steps."
"My son had the best week at the Kindergarten Readiness Camp. He is starting Kindergarten in September after completing a year of TK so it was the perfect refresher midway through summer. The camp focused on academics but also social interaction, self-regulating, transitioning and much more. My son said they played fun games and he loved taking breaks and playing in the gym. For a boy who doesn't love doing table work he said it was the best camp! I could not be happier."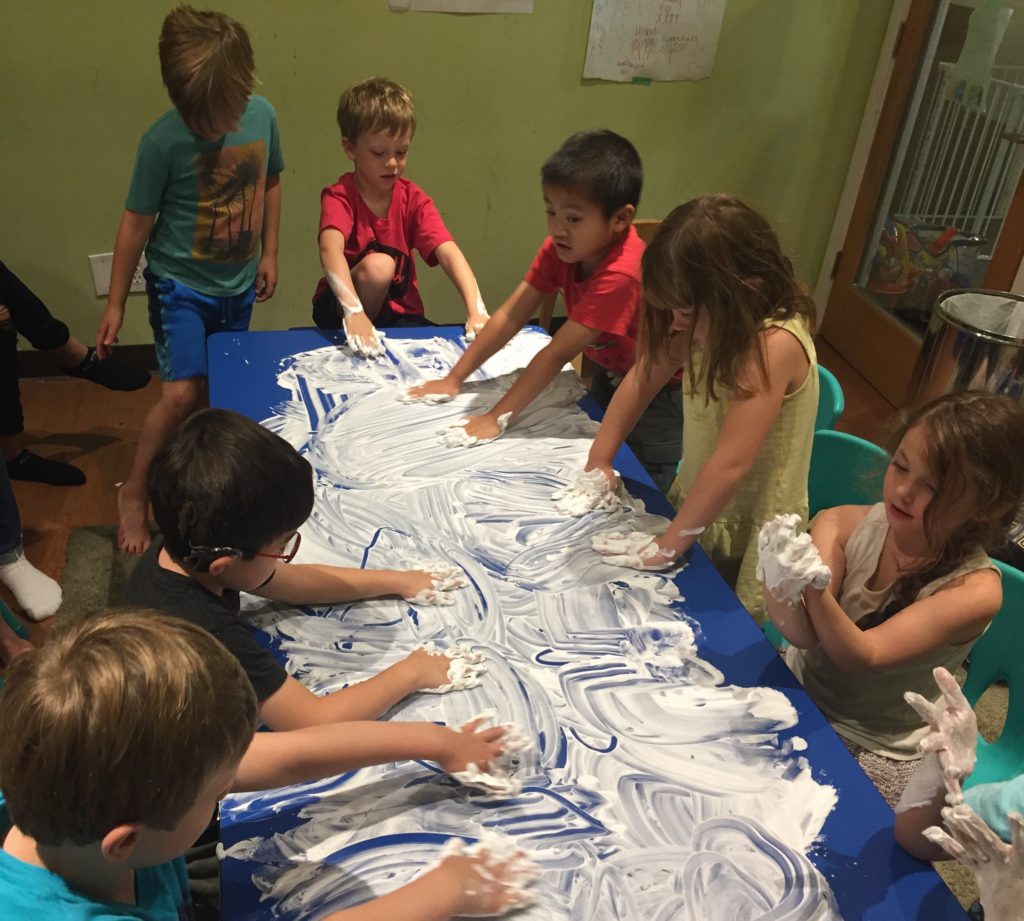 Additional information about Kindergarten Readiness Programs
Taking the Stress Out of Homework
Most parents have experienced it – the daily after school battle to get their kids to sit and do their homework. There are so many distractions – TV, social media, phone apps, texting. The problem often becomes worse if a child is struggling in school to begin with.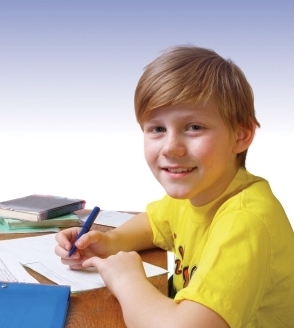 Providing a child with a sense of control over his homework situation can help. Creating a visual schedule and a "to do" list creates a feeling of ownership of a set of tasks. Completing this list of tasks instills self-confidence and a feeling of capability and accomplishment.
Establish a set time for homework, after some quality movement time, and keep it consistent, helping to build the child's internal sense of time. Organization is critical. Set aside a special place in the house for homework. Make sure this location is kept tidy and that all needed materials, pens, pencils, etc., are available. If a child is older, they can organize their own materials, helping to build executive function skills. Make sure the child is sitting at a desk that is appropriate for their body. Their feet should be flat on the floor or step stool, keeping their ankles and knees at 90 degrees. Shoulders should not be elevated and elbows should be at 90 degrees for proper ergonomic positioning. If a child is looking at a computer screen, his eyes should be looking at the center of the screen. Having to look up or down for a prolonged period of time can cause neck fatigue.
If a child struggles to keep track of homework assignments and related papers, creating a homework folder that goes back and forth with them to school can help. Making the teacher aware of this kind of folder means that everyone is working together on behalf of the child, with the ultimate goal of helping the child become independent with homework tasks.
Breaking up the homework time with a fun, healthy, crunchy snack wakes up the brain, helping to keep your child alert and on task. When a child is frustrated it is important for him to see that the parent or caregiver does not lose trust or sight of the end goal – completion of the task and success for the child. A parent or caregiver's availability during the homework period can be beneficial to a child that is struggling, providing a wonderful opportunity for a parent or caregiver to help motivate the child to develop resilience, focus and perseverance when challenged. Joining the child on a walk outside or a card game during a break can provide an opportunity for the child to communicate difficulties he may be having.
Encourage children to read for 30 minutes a night. Be aware of visual distractions, sound or auditory distractions, and get the child to work with you to locate a physical space that helps their body feel calm and their mind focused. Set a timer so they experience the success of completing the task. Big beanbag chairs are often a great place for children to feel calm. Make sure the lighting is adequate to avoid eye strain. If a child is rubbing their eyes, blinking consistently, has watery eyes or is regularly losing their place on the page, a developmental optometry assessment may be required.
Parents should try to remember that homework is for practice. It allows a child's teacher to know how a child is doing with his learning. It is important that a parent, who feels that his child doesn't understand what is being asked of them or is struggling in some way, communicate that to the teacher. Resist the urge to do a child's homework for them – it's not helpful in the long run.
If a child seems to be consistently struggling at school or with independent homework, then seeking out a professional assessment with an Educational Therapist could be key to identifying a child's particular learning style, strengths and weaknesses.
How Educational Therapy Helps a Child That is Struggling to Learn?
We all expect and hope that our child will have a love of reading and learning. It is heartbreaking for a parent to see their child struggling to learn. Often, however, a parent is uncertain what is getting in the way of their child's ability to learn. After all, children are natural learners, right? Yes…and no.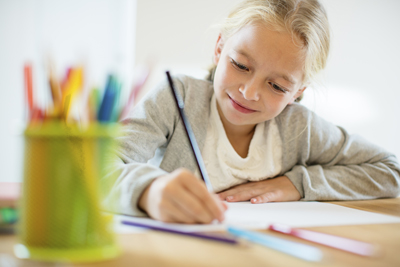 In the very early years from birth to 3 years old, a child's learning rate is the fastest of their lifetime. As a child grows older, however, he may find himself in a learning environment that doesn't necessarily suit the way he learns best. While it may be natural to learn, not every child learns in the same way. If a child's learning style is not recognized and difficulties in learning are not addressed, as he falls behind his peers the child can lose confidence and self-esteem, which will in turn further decrease his desire to pursue learning and may result in behavior issues. Early intervention is key and it is vital that the child be given access to a safe space to gain insight into their own particular way of learning and develop the skills needed for successful learning.
Educational therapy provides personalized remedial instruction to a child with learning and attention challenges that may be connected to root causes such as dyslexia, dyscalculia, dysgraphia, ADHD, executive function deficit, and language, visual and auditory processing issues. Other circumstances to take into consideration might be a child's regulatory system, sensory experience, emotional involvement, social connectedness and reciprocity, executive functioning, attention, and frustration tolerance. Educational therapy demystifies learning problems, enables a child to build underlying learning skills and stimulates a child's self-awareness of his strengths so he can use them to his best advantage to overcome or compensate for areas of weakness.
We continue to learn our entire lives. Learning and attention issues don't go away, but educational therapy will teach your child new learning strategies that will help him improve concentration, memory and attention, and be a more successful, self-confident and efficient learner in school and all through his life.
Social brain building to become a "we thinker", a successful group participant and a friend, is one of the hardest jobs of childhood.
Weather your child is 4, 10 or 15, being a competent social learner does not always happen intuitively. Learning social skills will require that your child is able to attend to a lot of data and decide what are the most important pieces of information, and use emotion, language and motor skills to respond in an appropriate manner within a relationship. A child can acquire those tools when he/she is given the opportunity to experience interactions with others that result in positive and negative outcomes, and is supported throughout the learning process. These learning opportunities can be facilitated by informed, knowledgeable and compassionate mentors, including parents, teachers and therapists. They can bridge the gap for the child and help him build the "scaffold" needed to move to higher learning.
It is often confusing when we see a child, of any age, struggling. We often think first about the psychology behind the child's temperament and behavior – does it stem from environment, living situation, relationships? In reality, learning to be a social being and be socially competent is really based on a highly complicated neurological process – a process that is automatic for most and creates stress and struggle for some.
Social learning relies heavily on foundations in development that have been put in place to regulate how the brain perceives and processes incoming sensory information, and how it then organizes and delivers an output that is expected and connected, resulting in a positive social outcome. The Social Thinking® (Attributed to Michelle Garcia Winner as creator of the Social Thinking Methodology)Social Competency Model, shown here, uses an iceberg as an analogy. The visible part of an iceberg and what we see above the water, represents the things we can see people do, such as their social skills and behaviors.  Yet the entire iceberg is much bigger than that, having a large foundation that goes far and wide into the depth of the sea, correlating to the knowledge, experience and development we hold – the collective information we draw upon and use to interpret and respond to social information that we experience.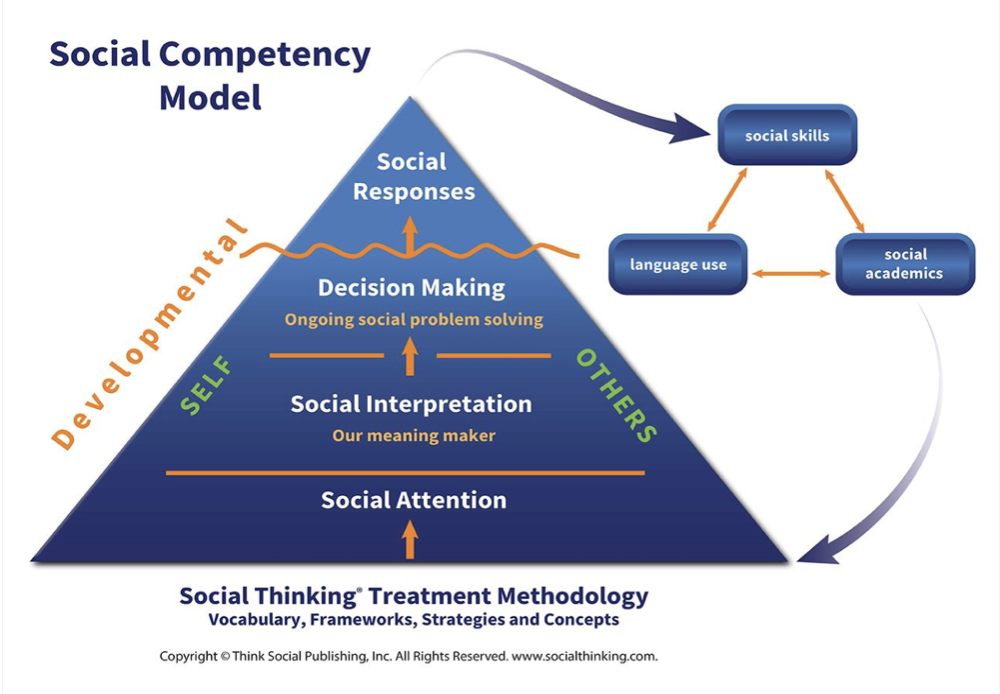 As parents, we unknowingly assume our child inherently owns the skills to be a social thinker and adapt collaboratively in any environment. We think that our child's social learning will just happen on its own.
The fact is that up to 20% of children will struggle with the jobs of childhood due to underlying processing challenges stemming from brain development. They may or may not have functional development and or learning challenges that lead to a diagnosis of speech and language disorder, sensory integration dysfunction, ADD, autism etc. These children are at risk for social challenges often due to their individual processing challenges. Finding a team of professionals, (Occupational Therapist, Speech Therapist, child psychologist) who can identify why your child struggles is the first step to creating a plan on how to build their base of social development.
Red flags that your child might be struggling to build friendships and to develop social skills: 
Prefers to play alone and does not play interactively with other children
Difficultly understanding how to gain attention appropriately
Difficulty initiating interactions
Difficulty staying on topic during conversations
Difficulty making relevant comments during conversations
Difficulty following game rules
What types of therapy help a child develop social skills?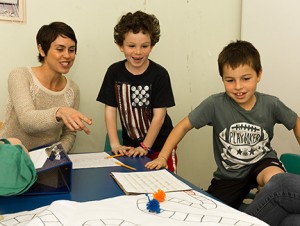 During a child's time as a pre-schooler, an Occupational Therapist can determine if sensory and/or sensory motor processing challenges exist. The OT can also determine if a child is having difficulty with self-regulation, joint attention and intention for a shared play experience. A Speech Therapist can work with a child with language processing issues, and a "peer to peer" or "social brain building" group can be facilitated by both OT's and ST's to teach concepts such as collaborative play, cooperation and negotiation.
In elementary school, a Speech Therapist can determine a child's level of receptive and expressive language, auditory processing abilities, and his use of social-pragmatic language. If language processing and sensory/sensory motor integration issues have been ruled out, small groups facilitated by a psychologist, are helpful in honing a child's emotional and attention regulation skills.
At Child Success Center, once a therapist has made an assessment and determined the root of a child's social struggles, then a recommendation is made for the "right fit" therapy.
Options include:
Individual Occupational Therapy and/or Speech Therapy: One child working with one therapist as part of OT session or collaborative session with ST, with opportunity for peer to peer play experiences in our sensory motor gym to build foundational social skills.
Paired Peer Speech and Language Sessions: 2 children who have been matched for optimal outcome success, working with a Speech and Language Pathologist.
Friendship Club: Small group of 4-6 children matched for group skill building needs utilizing social thinking and supporting inside out social emotional development- Led by psychologist.
Ultimately, we want our children to be able to relate to other people's feelings and to experience a sense of belonging in their classrooms, homes and community. With a solid foundation of social skills, any child can be the key to his own success.
This program, including its teacher or leader, is not affiliated with, nor has it been reviewed, approved, or endorsed by Michelle Garcia Winner and Think Social Publishing, Inc.
Executive Function – Helping Your Child Create the "Recipe for Success" this School Year.
Melissa Idelson, Director of Child Success Center, recently spoke at the Child Success Foundation's "Outside the Box" Child – Educational Conference in Culver City, California. She and her speaking partner, Dr Jayme Neiman-Kimel, Ph.D, shared their thoughts on how to help children who struggle with Sensory Processing Disorder (SPD), attention issues and lack Executive Function skills, organize their worlds, learn to self regulate and develop the skills needed to move towards independence.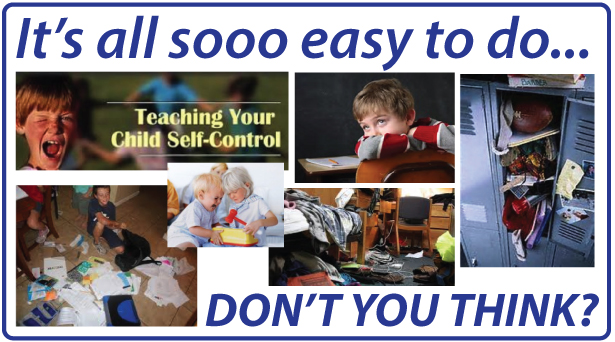 Children with SPD, ADHD and Executive Function deficit may exhibit similar behaviors such as impulsivity, frustration, biting/pushing/hitting, difficulty going to school or maintaining friendships, immaturity, sleep difficulties, poor personal space recognition, and may be hard to parent. Any of these behaviors can hinder your child from effectively doing his "jobs of childhood" – that of learning to collaborate his physical, social/emotional and communication/language platforms with his environment and peers in order to prepare his brain for a higher level of learning. This collaboration, known as Executive Functioning, is a set of processes, or neurologically-based skills, that all have to do with managing oneself (mental control and self-regulation) and one's resources in order to achieve a goal.
While we tend to assume that all children are born with the capacity to excel in the "jobs of childhood", the reality is that about 20% will encounter challenges substantial enough to require intervention – and the earlier the better. Getting this early intervention begins with parents being aware of their child's challenges and seeking professional assessment.
The recipe for success begins with an intake session with a professional to determine the "ingredients", or the challenges the child is experiencing, and the behaviors the child is exhibiting. Then an assessment is made and a program of appropriate interventional therapies with a therapeutic specialist is created. From these therapy sessions the child will acquire the tools needed for a successful outcome.
For the preschool aged child, a combination of occupational therapy and speech therapy is often recommended. For older children, educational therapy can be added to the mix, utilizing a team based/whole child approach. Social Learning, a program for all age groups used here at Child Success Center, provides practical frameworks, strategies, activities, and vocabulary to help improve social skills.
Learning Executive Function skills is a process that begins in the pre-school years. It is important that parents observe their young child and take notice of areas where there is consistent difficulty. However, during any stage of a child's development, if a parent notices signs of struggle or frustration, that is the time to seek an appropriate assessment.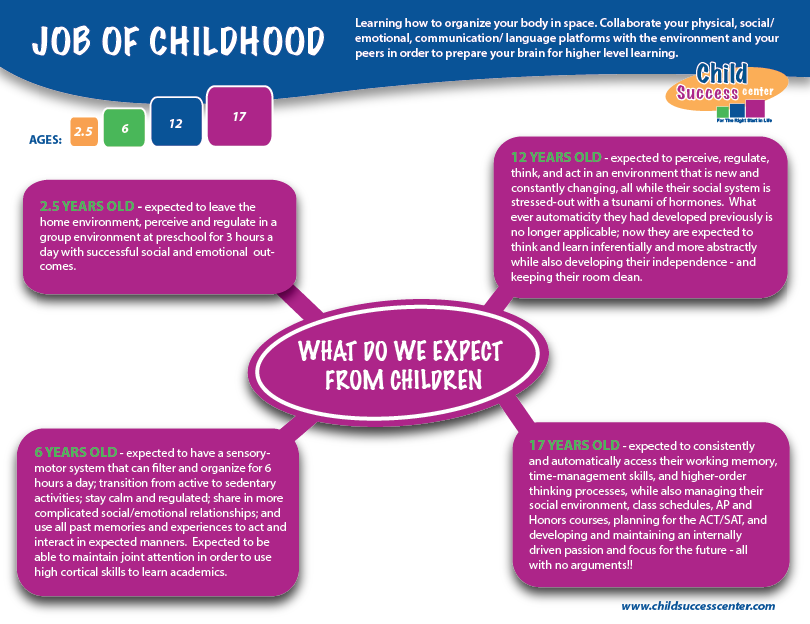 Learn more about what to look for in your child, how each of the therapies are facilitated, the programs offered at Child Success Center, and how we can help your child achieve his successful outcome.
Occupational Therapy – Learning the "Jobs of Childhood"
Which Children Benefit from Therapeutic Services?
Friendship Club Social Skills Enrichment Program
The wrong Halloween costume can create a scary Halloween for the sensory child.
For the sensory child, everyday encounters involving touch can become a monumental issue. An over or under sensitivity to touch and texture can make eating, showering and getting dressed a real challenge.
This challenge can make the annual choosing of a Halloween costume a frightening event. The sensory child may find the myriad textures of super hero and monster costumes just too intolerable and uncomfortable due to tactile sensitivities. One child may prefer a loose fitting costume – another, something that fits snugger. Sometimes seams or tags are the culprits. Evaluate what your child is comfortable with for his everyday attire then seek costumes that fit those criteria.
Something else to consider is the time and place where your child tries on his costume. Children with tactile sensitivities are often in a state of hypersensitive alertness and high arousal. Try on Halloween costumes at a time when the child is calm and without agenda.
Perhaps wearing familiar, comfortable clothing under their costume might be the easiest fix when the "perfect" costume isn't perfectly comfortable. Washing the costume before wearing and a trial run may also be beneficial to ensuring a successful and happy "trick-or-treating" experience.
And in case all those precautions fail at the last minute and your child's first choice costume just isn't working out, prepare to have a "backup" costume made from your child's tried and true favorite clothing. Being prepared helps keep the situation light and everyone smiling.
Happy Halloween!
Help your child avoid "summer slide" with some fun summer learning.
Summer slide, unfortunately doesn't refer to that cool new apparatus on the playground. Summer slide is what happens when students forget academic skill sets over the summer break. In fact, statistics show that a child can lose up to 30% of their math and reading abilities, putting them behind about 2 years by the 5th grade.
Now while that sounds dramatic, it is also avoidable. The summer is meant to be a fun break from the rigors of academia, but there is much learning that can be accomplished during summer fun and down time, leaving your child ready to tackle the beginning of a new grade in the Fall.
Some children naturally love to read, and will find the time during the summer to relax with a good book. Other children who may have reading challenges, and therefore don't really enjoy it, can benefit from a reading skills program, where highly trained educational therapists get to the root of the reading difficulty, and help a child, in a fun and engaging way, to develop that skill.
Also, look for ways to practice reading, letter and number recognition in everyday summer activities. The signs at the farmers' market while buying farm stand produce, street signs and license plates during car travel on vacation, and reading a recipe for a session of cookie baking are all examples of ways to keep those reading skills polished.
Math isn't always thought of as a "fun" subject, but think of all the wonderful things that could be counted in the summer. Stars in a dark sky over a campground, seeds in a juicy watermelon, fish in a clear cool pond, popsicle sticks, water balloons, sea shells on the beach and cherries in a bowl.
Some children have a more difficult time with numbers, and again, a well trained educational therapist will be able to identify the root problems of the difficulty, and work with a child to develop the skills needed to succeed in this area.
This summer, support your child's learning by making it part of the summer family activity plan, or by allocating just a few hours a week to an enriched summer learning program – leave the summer sliding for the playground.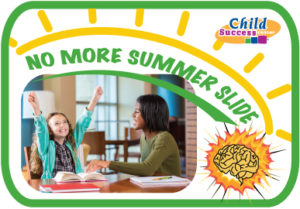 Child Success Center SPARK Summer Program for Reading
Child Success Center SPARK Summer Program for Math
Clinical neurologist Jerome Schultz, PhD, discusses how summer programs can help kids with learning disabilities by providing academic support during months without school. Watch video.