Preventing Summer Slide
Help your child avoid "summer slide" with some fun summer learning.
Summer slide, unfortunately doesn't refer to that cool new apparatus on the playground. Summer slide is what happens when students forget academic skill sets over the summer break. In fact, statistics show that a child can lose up to 30% of their math and reading abilities, putting them behind about 2 years by the 5th grade.
Now while that sounds dramatic, it is also avoidable. The summer is meant to be a fun break from the rigors of academia, but there is much learning that can be accomplished during summer fun and down time, leaving your child ready to tackle the beginning of a new grade in the Fall.
Some children naturally love to read, and will find the time during the summer to relax with a good book. Other children who may have reading challenges, and therefore don't really enjoy it, can benefit from a reading skills program, where highly trained educational therapists get to the root of the reading difficulty, and help a child, in a fun and engaging way, to develop that skill.
Also, look for ways to practice reading, letter and number recognition in everyday summer activities. The signs at the farmers' market while buying farm stand produce, street signs and license plates during car travel on vacation, and reading a recipe for a session of cookie baking are all examples of ways to keep those reading skills polished.
Math isn't always thought of as a "fun" subject, but think of all the wonderful things that could be counted in the summer. Stars in a dark sky over a campground, seeds in a juicy watermelon, fish in a clear cool pond, popsicle sticks, water balloons, sea shells on the beach and cherries in a bowl.
Some children have a more difficult time with numbers, and again, a well trained educational therapist will be able to identify the root problems of the difficulty, and work with a child to develop the skills needed to succeed in this area.
This summer, support your child's learning by making it part of the summer family activity plan, or by allocating just a few hours a week to an enriched summer learning program – leave the summer sliding for the playground.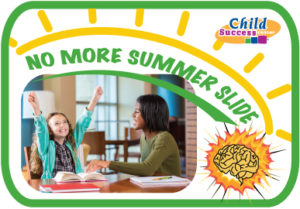 Child Success Center SPARK Summer Program for Reading
Child Success Center SPARK Summer Program for Math
Clinical neurologist Jerome Schultz, PhD, discusses how summer programs can help kids with learning disabilities by providing academic support during months without school. Watch video.