What Your Child May Experience in an Occupational Therapy Session
An occupational therapy session is work for a child's brain, disguised as play.
A child's "occupations" include everything he or she does throughout the day – the "jobs of childhood" – the most important jobs being playing, socializing, and learning. The purpose of pediatric occupational therapy is to help a child become comfortable, independent, and proficient in these areas of their lives.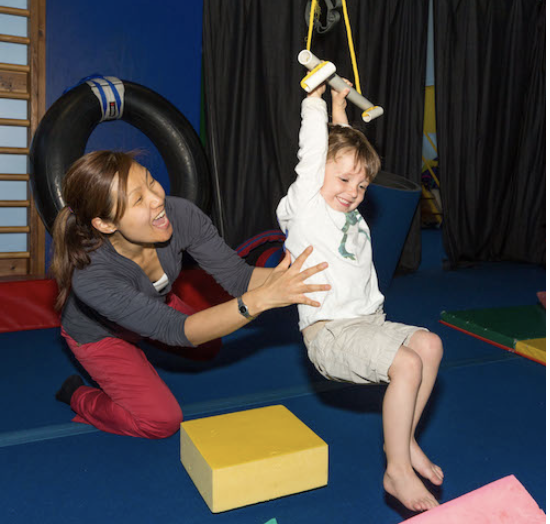 Occupational therapy addresses a variety of areas of deficits including fine motor skills, gross motor skills, social emotional skills and sensory integration. Initial therapy sessions help the therapist to understand the unique wiring of the individual child's brain and nervous system. The therapist will consult with the child's parents to ascertain what home and school life are like for the child, and what they have observed in their child's development. This evaluation and analysis process will continue across subsequent sessions as the child's nervous system develops.
Each occupational therapy session is tailored to meet the child's specific needs, facilitated in a warm and comfortable environment, and created to reflect the child's interests.
Sensory processing, or organizing, is how a child learns and experiences the world around him. "Just right" sensory experiences during the therapy session will help the child with emotional regulation, self-regulation and social engagement. Intact sensory integration provides the fundamental building blocks for attention, emotional development, motor skills development and higher-level academics and social skills.
An occupational therapy session, utilizing a sensory integration treatment approach, will often target the social-emotional system, employing the Zones of Regulation, Floortime and Social Thinking® (Attributed to Michelle Garcia Winner as creator of the Social Thinking Methodology) programs. Covered would be social skills concepts such as staying with the group, taking turns, collaborative play, and interacting with peers and adults, in order for children to be successful in relationships and group environments.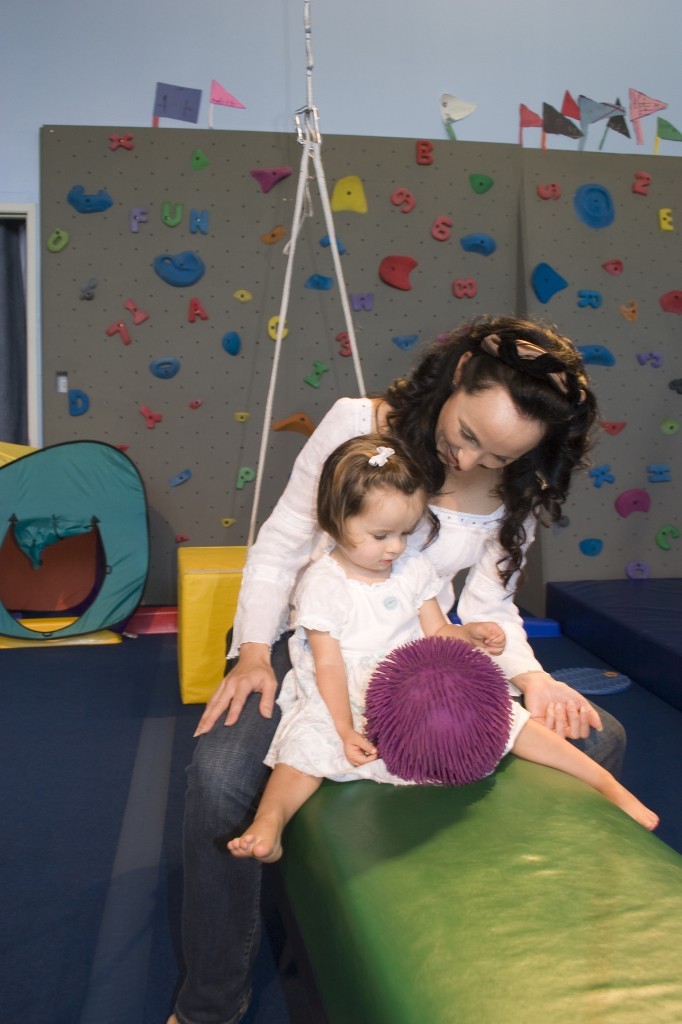 Occupational therapy may work on fine motor skills such as grasp and in-hand manipulation, necessary for drawing, coloring, folding and cutting. Visual motor integration, the ability to use the visual system and the fine or gross motor systems together, and essential to activities such as handwriting, ball play and sports, may be addressed.
An OT session might include work on gross motor skills that are involved in playing sports that require bilateral coordination, ball skills, strength, coordination and balance. The therapist will provide easy and creative activities and exercises to help increase upper body and core strength necessary for postural stability, balance, coordination, gross and fine motor control and will often provide a home-based program for follow through.
Often, children who struggle with Sensory Integration and are referred to Occupational Therapy have challenges with Executive Function Skills, necessary for learning and development. In order for a child to plan and organize what they need to do throughout the day, such as getting homework done, they need to be able to focus attention, filter distractions, remember and perform multi-step directions.
Occupational therapy is work for a child's brain, disguised as play. All children engaged in occupational therapy experience a new level of confidence and self-esteem that comes with learning a new skill or overcoming a challenge. The smile on their face will say it all.
This program, including its teacher or leader, is not affiliated with, nor has it been reviewed, approved, or endorsed by Michelle Garcia Winner and Think Social Publishing, Inc.