cscadmin
It's that time again, summer is winding down and schools are back in session! For all you pre-school parents it's a big time of change and transition. There's so much to balance that it's hard to keep track of everything! Lucky for parents SLPs (Speech/Language Pathologists) are here to make part of that process a little easier with preschool speech and language screenings.
What is a pre-school speech and language screening?
A pre-school speech and language screening is a way for an SLP to observe children (approximately ages 2.5-5) in the school environment to determine if they demonstrate appropriate understanding and use of language, production of speech sounds, attention, and social skills with peers. The SLP will then determine if the child passed the screening or if they will recommend a full speech and language evaluation.
What does it mean if my child does not pass?
Being recommended by a pre-school language screener is an open conversation to talk about your child's needs. As a parent you should be aware, but not alarmed! Early intervention is a wonderful opportunity to address areas where your child is struggling and give them the extra help they need  before academic and social demands increase as they get older. Research continues to show that identifying children with language disorders as early as possible is important because the earlier children receive speech and language intervention, the better their language outcomes will be.
Each child develops at their own pace, so SLPs use typical age ranges of speech and language development as a guideline to recommend assessment.
6 hidden speech and language skills that SLPs look for and why:
Speech intelligibility (in words and conversation) – Often it's easier for close family members and familiar adults to understand kids, but if less familiar people have trouble understanding your child's speech it could mean their speech is somewhat unintelligible. This can make it hard for children to be understood by peers and teachers, which can impact their communication at school. It can also be indicative of phonics or reading issues down the line if left untreated.
Attention to tasks – Can the child sit and listen during story time? Are they able to focus and listen when the teacher is talking? This can appear like the child struggles to follow directions when they may just need help learning how to focus and maintain their attention at the same level as their peers. Without appropriate attention skills, children can miss important things going on around them at school.
Early social skills (relating to peers, pretend play, functional play) – Are they able to initiate games and social interactions with their peers? Are they playing with toys functionally, such as stacking blocks or putting shapes in a shape sorter? Are they engaging in pretend play with their peers, like feeding their animal dolls or making their toys go on adventures? If not, they may need some help to gain these skills! If left untreated, this can lead to trouble relating to their peers and losing out on opportunities for social interactions.
Emotional regulation – Is your child able to react and respond appropriately when things do not go according to plan? Are they self-directed and on their own agenda or can they follow along and participate in what the group is doing? If not, it could mean that they need some help learning how to regulate their emotions.
Vocabulary development – SLPs take a look at the content and vocabulary your child is using in their speech. Preschool-age children are expected to understand and express a variety of concepts and word forms (e.g. verbs, adjectives, location words) at the same level as their peers. If your child is not using age-appropriate vocabulary or using only limited phrases or sentences, they might need help to expand their expressive skills.
Clear communication – Is your child able to clearly communicate their thoughts and their wants and needs? Are you noticing breakdowns in communication? Your child might need help in this area in order to help them be clearer communicators and to prevent frustration that breakdowns in communication can often cause.
Every year, with the weather warming and the anticipation of the end of the school year, our CSC team looks forward to the summer camp program. Our Kindergarten Camp is always a favorite, and this year we added the Summer Brain Building Camp, which proved to be great fun for the kids and us!
Kindergarten Enrichment Summer Camp
K-Camp is such a joyful experience for the campers. For many of them, this is their first "camp" experience. That, combined with the anticipation of entering Kindergarten, creates excitement and glee for the children as they embark on their social learning journey.
While playing and making new friends, each camper was actually being challenged to build their capacity for adaptation and flexibility, supporting transitions between our sensory gym and classroom-like environments.
At the outset, each child engendered mindful attention, active listening, and presence to sculpt a grounded infrastructure. Such practices created a platform for social and emotional balance and regulation that promoted "whole body and brain" listening and engagement.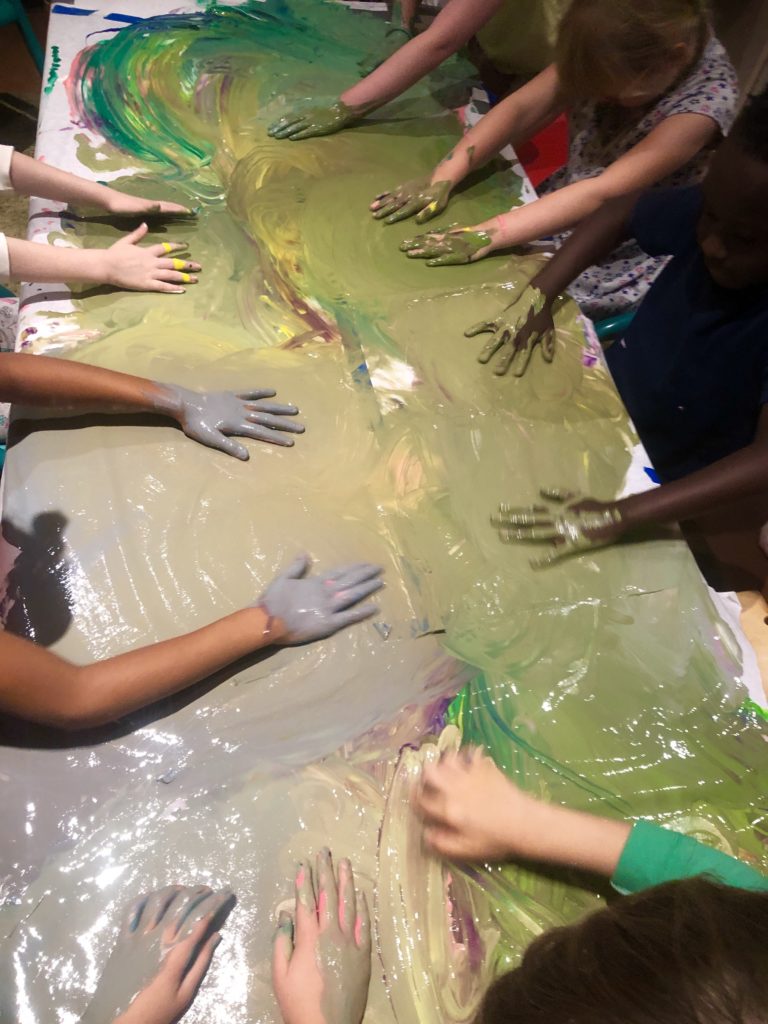 Our focus on learning stemmed from an array of structured, tabletop activities, to less structured, independent tasks that included sound/letter identification and pairing, rhyming, handwriting, word creation, and initial reading practices.
Through a social-emotional lens, we explored group plans and dynamics, problem-solving, expected and friendly ways of being, the sense of belonging, and further developed confidence and competence. Taking a look inward and building on self-reflective practices and attunement, each child began to expand their self-awareness and interpersonal skills. Through such dynamics emerged a child's sense of openness, curiosity, and creativity to explore and build pathways for learning and academics, motor skill development, play, and social-emotional integration.
Whew! That said, the kids had a blast laughing, playing, giggling, and making friends and memories. Good luck new kindergarteners – you got this!
Social Brain Building Summer Camp
New this year to CSC's summer camp program, was Social Brain Building Camp. Designed for children entering 1st grade in the fall, this camp invites children to exercise their imaginations, and role play while having fun building dynamic social skills that prepare them for successful relationships in 1st grade…and life!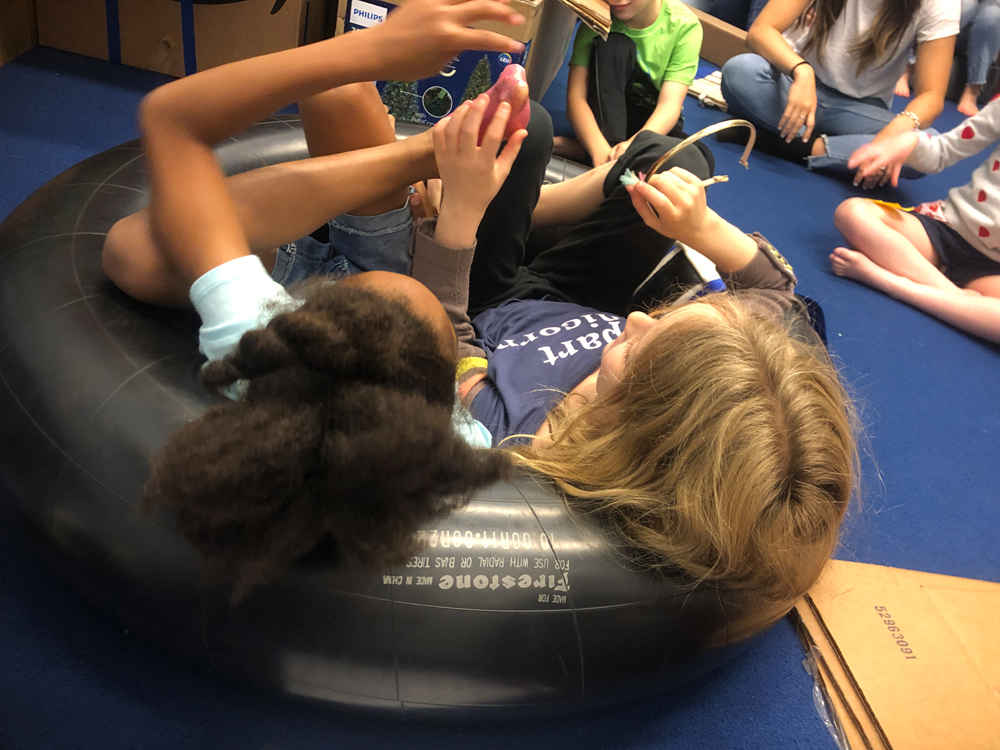 Campers attending CSC's Social Brain Building Camp embarked on their social-emotional journey with eagerness to make new friends, enjoy physical activity, and learn the fundamentals of "we-thinking". These were big challenges that the group worked on through various fun activities, including building a rocket ship to go to the moon, painting and coloring emotions, playing board games, watching interactive social skills videos, having a shaving cream party, and performing space man exercises.
The camp's goal was to develop social and emotional balance, regulation for first time listening, and cooperative conversational skills.  Taking a look inward and building on self-reflective practices and attunement, each child began to expand their self-awareness and interpersonal skills. Campers began to take charge of their own emotions by identifying their feelings, utilizing the "take a break space" when needed for re-centering, and using their words to communicate their needs to peers.
Each week helpful hints were sent to parents to support and encourage ongoing social learning within the home.
Overall, the children at both camps, created a toolbox that shaped the development of the brain and body,  enhancing capacity for social relationships, emotional experiences, and cognitive opportunities on the learning journey.

"How do I help my child? What am I supposed to do?"
That is the question most parents ask when we begin speaking to them about their children's developmental and learning challenges. It comes from a feeling of helplessness. They've either tried everything they know or they're at the beginning of their attempts to make sense of things, and the myriad treatment options seem too overwhelming to make decisions about. The result is burnout or, worse yet, the inability to act. With knowledge and support, parents are empowered to act swiftly and confidently on their child's behalf.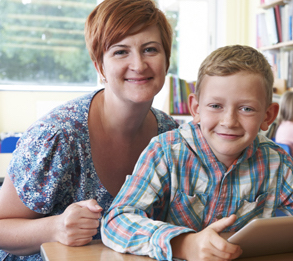 It takes a village to help my child.
You can't do this alone, nor should you have to. The best thing a parent can do when seeking support for their child, is to get support for themselves. Parents are the ones helming the ship, and if the captain isn't operating with optimal knowledge, the whole crew suffers.  Self-care, groups, therapy resources, and just being kind to yourself, are all recommendations for parents.  Give yourself a break – give yourself compliments – don't give in to negative self-talk.
There's no right or wrong way to find community and get support.  Some parents prefer one-on-one meetings with a therapist, others prefer parent groups, while others find community in their yoga class or religious community.  Podcasts, books, blogs, and online groups are great resources. Finding others to talk about these topics and share experiences, gives a parent a sense of belonging and connection as opposed to feeling isolated and alone.
At the Child Success Center we understand the hurdles and intricacies of parenting "outside the box" kids. We offer various opportunities for parents to learn how to continue and support in the home and school environments, the strategies that we work on with the kids during sessions.
Our goal is to provide the resources and tools needed to facilitate happiness and success for children and peace of mind for parents.
Parent Resources:
Behavioral Therapy  – A child's problematic behavior may, in actuality, be the resulting reaction to any number of unseen factors. Our therapists work closely with family members to help determine what lies beneath the surface of the behavior, including a variety of sensory, social emotional, environmental, and physical issues.
Child Success Foundation Parent Support Group
Child Success Foundation Annual "Outside the box" Child – Educational Conference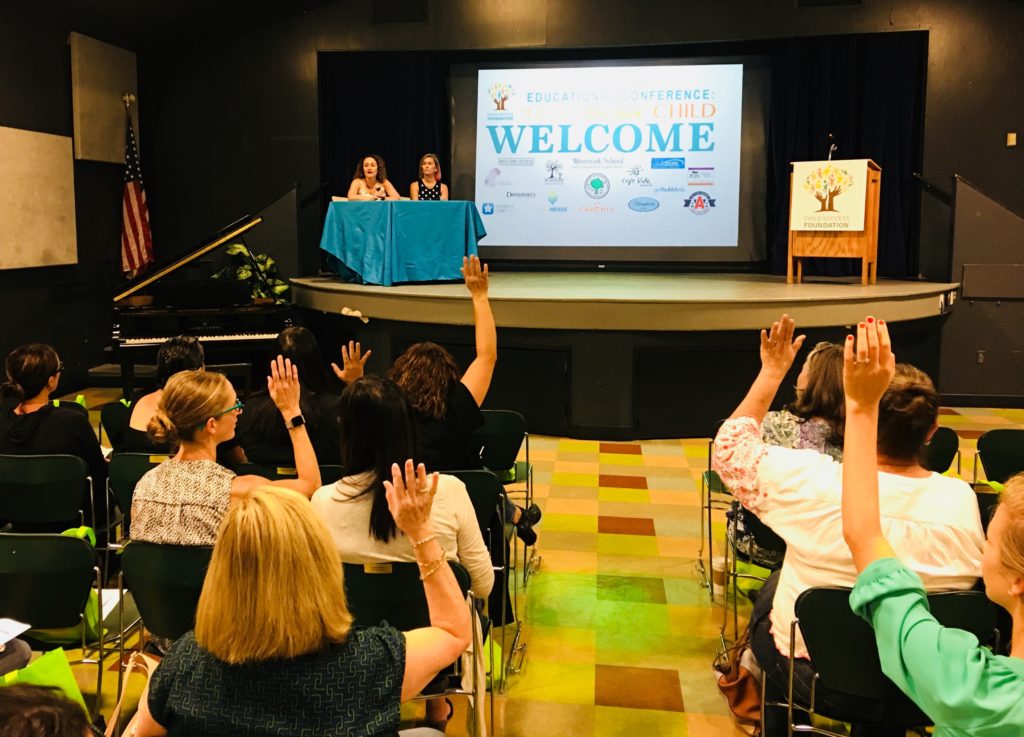 Back to school tips to make the transition easier on the whole family.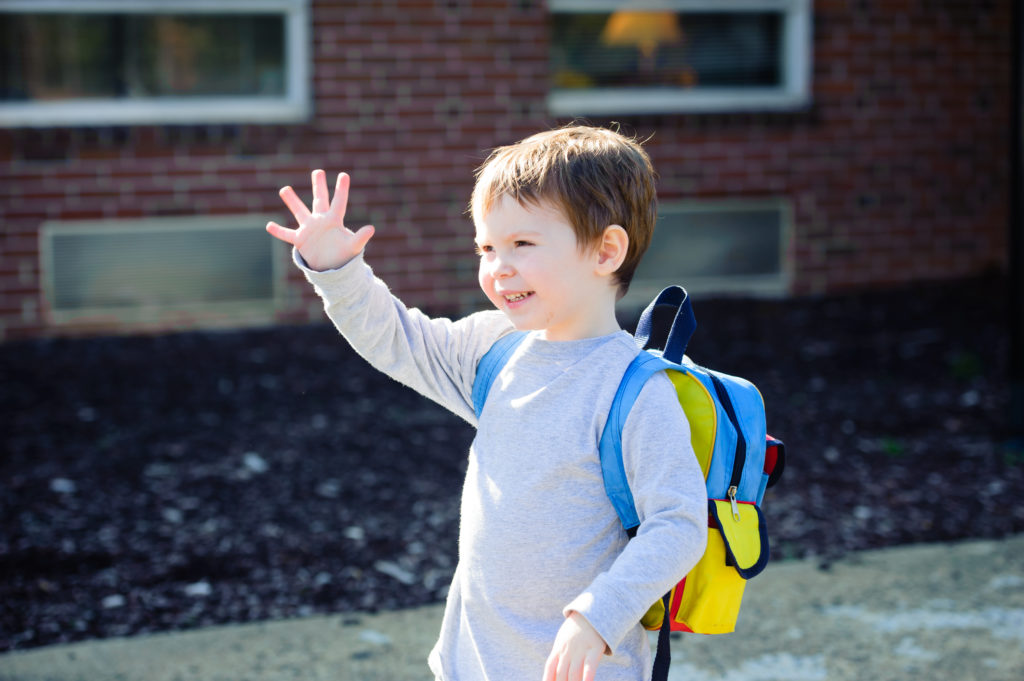 With school about to resume after the long summer break, now is the time to put wheels in motion for a smooth transition to the back to school routine. These back to school tips will benefit the whole family.
Morning Routine
First and foremost on parents' minds is likely some dread thinking about the "morning routine" of school time. Two weeks prior to the start of school, establish school appropriate bedtime and wake up times, and practice going to bed and waking up at those times. Determine what the school morning will look like for each member of the family. Don't use words alone – try using visual schedules to illustrate routines. A checklist with added visuals helps children learn how to self assess if they have completed what is expected of them. Every child wants to succeed, and feeling successful with the morning routine is no different.
Who will prepare breakfast and lunch?
Make sure to leave enough time in the morning routine for eating breakfast or preparing healthy smoothies to go. Start planning breakfast and lunch options a couple of weeks before school starts too, especially if your child is a picky eater. Explore ways your child can learn to make their own healthy lunches with plenty of fruits, crunchy veggies and protein to fuel their brain throughout the day.
Transition of movement
As kids head back to school, it's important for parents to understand that their child's nervous system is going to go through a transition while their body gets used to having less active movement throughout their day. Summer time fun involves a lot of whole body big movement play. School time requires more small motor tabletop play and learning experiences. This shift in body movement can cause a child to get fidgety or anxious. Try not to increase this anxiety by emphasizing they should "sit still", "be good", or "pay attention". Make sure they get a good amount of active movement during after school hours.
If your child has been seeing an occupational therapist working on strategies to support attention and regulation, or if there are certain words that help your child connect to whole body listening, share those strategies and words with your child's teacher prior to the commencement of the school year.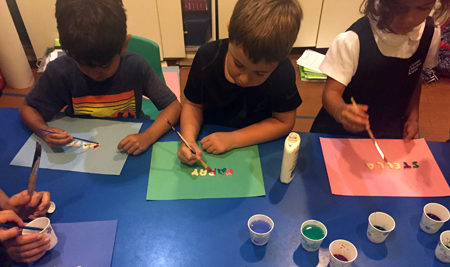 Much of the tabletop play and learning will involve writing or drawing. The small motor skills required for both are not necessarily automatic and easy for all children. Watch how your child picks up and holds a marker or pencil, and if they experience joy or avoidance responses when doing so. If you notice a tendency towards avoidance, manipulation seems awkward or encumbered, or if their desire to do age appropriate drawing and writing does not develop, seek advice from a pediatric occupational therapist as early as possible.
Sensory Overload
The classroom environment may have a lot more sound and visual stimulus than a child might experience during a typical summer break day, as well as many more people in their immediate space. For some children, this additional sensory activity is joyful, but for those with sensory processing challenges, these circumstances can heighten the stress response. Be aware and observe your child as he transitions into these new situations, and appreciate how his/her brain may be working to modulate and process the incoming sensory information.
Children can also be overwhelmed by the amount of oral communication they have to process during a school day. They need to fire up their listening skills to follow direction, and their memory systems need to respond and perform in an expected manner in a group all day. Whew, that's a lot! Don't be surprised if they struggle with following directions and listening when they get home at the end of the day. Watch for chewing of shirt, pencils and other nonfood items – this is a sign that their nervous systems is needing help to regulate. Keep this in mind for the first couple of weeks and try not to overload them with too many additional directions.
Communication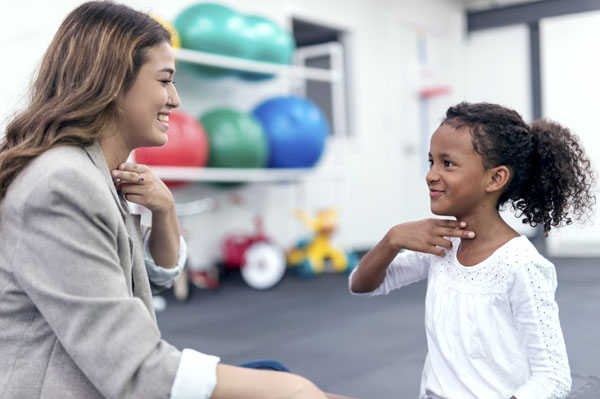 School requires children to be sharing thoughts and ideas, and following direction utilizing their language processing brains all day long. If they are struggling in any of these areas and if they were a late talker, seek a speech and language evaluation to gain insight into language processing, before social, emotional, or reading/spelling concerns develop as well.
Speech intelligibility is a developmental process. Knowing when your child should be saying "s", "l"  and "r" sounds, to name a few, correctly can be confusing. This chart can be referenced as a guideline.
Finally, you and your child will feel tired as you transition sleep patterns and routines back to school. Be kind to both of your nervous systems and don't over schedule your child's after school activities. Some down time is a good thing – for both of you.
How the many aspects of social emotional brain building affect a child's academic success.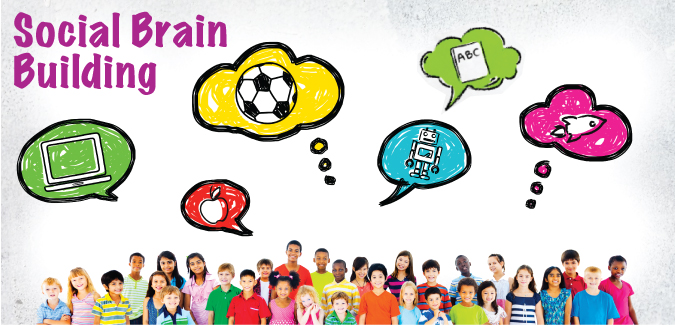 When a parent thinks about "back to school", thoughts probably turn to new backpacks, notebooks and sneakers. Academic questions likely come to mind too. After all, isn't that mainly what school is all about? Well, yes, mainly. But a child's back to school tool box needs to have social emotional skills too, as the ability to perceive, adapt, attend and self-regulate is key to effective learning and social integration. And let's not forget about executive function, mindfulness and self-awareness. Let's take a closer look at each of these to make sure you can check them off your child's back-to-school "to do" list.
Social Brain Building
Much can and should be said about social brain building, and we've written much on the topic. But for the sake of this article, we'll keep it short. In a nutshell, social brain building is the development of a child's social emotional health, critical for interactions with others.
This developmental process is not always inherent, and relies upon efficient self-regulation, sensory motor processing, executive function, two-way communication, (verbal and non-verbal), and the capacity to stay connected, in order to develop problem solving skills and a sense of "self" in relationships. The integration of all these processing systems enables a child to think of others, taking into consideration their thoughts, emotions and intentions, and react in an expected manner to build attachments rooted in joyful, trusting relationships.
Communication
We navigate our world and our social relationships through language. Effective use of oral communication with peers sets the stage for positive self-esteem, and enables a child to advocate on his own behalf.
Receiving and processing non-verbal social communication cues requires a child to "think with their eyes". By visually assessing a given situation they can determine what others might be thinking, how others are feeling, and what might be expected of them upon entering that situation or environment.
Executive Function
The ability to think as a "we" and follow directions, listen, attend, modify behavior and anticipate change, is the foundation of executive functioning. Executive function is a set of processes, or neurologically-based skills, that all have to do with managing oneself (mental control and self-regulation) and one's resources in order to achieve a goal. A solid foundation of executive function skills is imperative to all learning.
Mindfulness and Self-Awareness
We hear a lot about "mindfulness" these days, but perhaps you've never heard of the body's 8th sense. Interoception is a sensory system that gives us whole body awareness from the inside out. Receptors for interoception are widely spread throughout the body's organs and give us a huge variety of sensations including but not limited to hunger, physical exertion, nausea, and the need to go to the bathroom. Interoception is deeply connected to our emotions and self-regulation. When a person is aware of their internal state they will either consciously or unconsciously take steps to self-soothe. That entire process from sensory perception, to awareness to self-soothing, all together is called self-regulation. Our desire is for our children to be regulated in order for them to successfully build meaningful relationships with others.
Self-regulation
Self-regulation refers to the ability to manage your reactions to your emotional and physical feelings and the environment around you, and begins with the ability to identify and validate those feelings. The ability to self-regulate is closely tied to one's awareness of their internal state via the interoceptive sensory system as well as efficient management of input from all 8 sensory systems.
Sensory Processing
Self-regulation depends largely on a child's capacity to turn the volume up and down on incoming sensory information from all 8 sensory systems. Effective sensory processing directly affects a child's ability to attain and maintain the "just right" state of regulation necessary for the classroom and peer interactions.
So as you might have surmised, the system of social emotional skills is complex and highly interconnected. It is also vitally important to a child's academic success, and really to all of life's successes.
Have a look at these areas of development as part of your preparation for the upcoming school year. If you have concerns regarding your child's proficiency in any of the areas discussed above, a consultation with an early childhood development specialist might be recommended. It's never too late to learn a new skill set, but like with anything, the sooner the better!
Summertime can provide endless opportunity to enrich early childhood development.
Summertime for young children means splashing in water, squishing sand between toes and endless hours of creative play. Still, there are ways for parents to guide a child's play, here and there, to make sure they're getting all the developmental support and enrichment they need to be ready for their next level of learning.
Summer tips for early childhood development – 2-6 year olds
The therapists at Child Success Center share some simple ways parents can foster early childhood development during the summer break.
Literacy:
Sit and read with your child everyday. Choose books with illustrations and have your child talk about the story and images as you read it. When you've finished reading the book, ask your child to tell you what happened in the book in the beginning, middle and end. Books with little or no text encourage a child's imagination to create the story.
Consistency and accessibility can foster early literacy. At home, create a reading corner where you and your child can sit and enjoy books whenever you want. When traveling over the summer, take some favorite books along in the car or plane, and find some new ones that might be relevant to the places your visiting or the activities you'll be experiencing.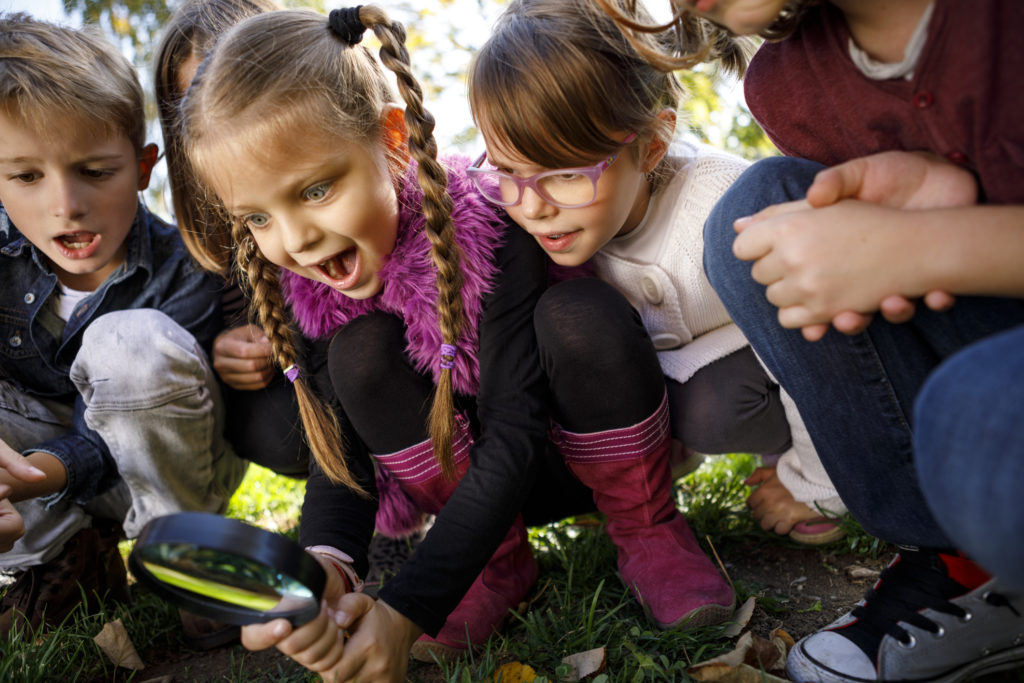 Social Brain Building:
Facilitate social skills building by challenging your child to get acquainted with one new peer each week during the summer break. Ask them to find out another child's name and 2 fun facts about that child, such as what grade they're going into and if they have a pet. This exercise helps a child build confidence when placed in new social groups or when entering a new classroom environment.
Invite some of your child's friends over to collaborate on building a fort or obstacle course. When completed, have them explain why they made the choices they did, and ask for a walk thru or demonstration.
Limit screen time each day. With the extra "down time" during the summer break, it's easy for a child to spend too much time in front of a screen. Limit screen time, making sure there's plenty of time spent playing, exploring and socializing.
Communication:
Encourage your child to share thoughts and words. One way to help build "communication temptation" is by keeping toys out of your child's reach. This requires your child to use their language to ask you for what they want. As a child learns to request, provide two options, asking, "Do you want _____ or _____ toy? By doing this, the child is empowered with ownership over their choices.
Language is everywhere! Increase your child's exposure to language input by narrating, commenting, and labeling everything you see while playing, eating, and driving.
Engage in activities that involve and stimulate the talking muscles, tongue, lips and jaw: Blowing bubbles, blowing kisses, drinking with a straw.
Take pictures of your child's day and talk about what happened first, next and last. Make a photo album of your child's summer activities that he can talk about with friends and family.
Communication and social brain building skills come with shared play experiences, including just getting messy! Play with water, take out the finger paint, dig in the garden, build sandcastles. Have a great summer!
Well developed communication skills are vital to a child's academic success
At all levels of education, students must be able to communicate effectively. Without well developed communication skills, children run the risk of falling behind their peers or becoming emotionally overwhelmed or withdrawn at school.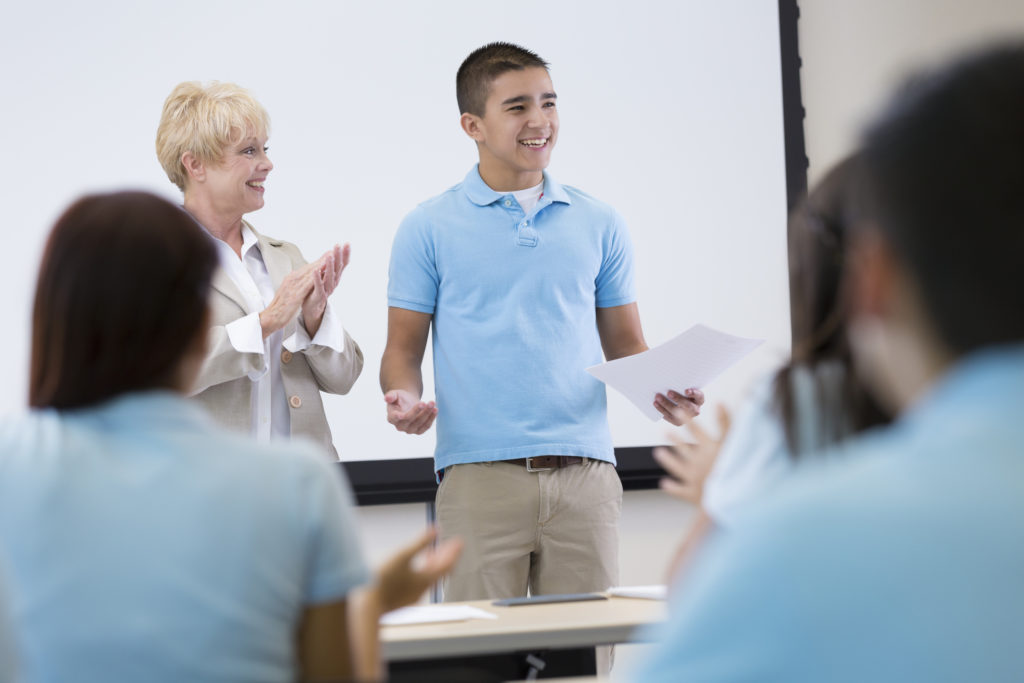 Academic success depends on solid communication skills, beginning with clear oral communication. Students are often called upon in class to answer questions. These questions may range from those with simple factual answers to questions that involve putting thoughts together and making arguments. Answers to questions need to be communicated effectively so teachers can assess a student's knowledge. Students with oral challenges may also become embarrassed if they are unable to communicate on par with their peers. If a student stutters or mumbles they may become fearful of speaking up in class, and this in turn can lead to lowered grades and diminished self-esteem.
Oral Communication Skills
A second aspect of oral language communication is pragmatic and social language, used in daily interactions with others. This includes what is said, how it's said and non-verbal communication, such as eye contact, facial expressions and body language. We navigate our world and our social relationships through language. Understanding how to communicate effectively with peers sets the stage for positive self-esteem. Students feel empowered when they can "talk the talk" in their social lives.
Effective use of oral communication also allows students to advocate for themselves. They must be able to articulate when and how their academic needs are not being met. A student who can effectively ask questions and get help from a teacher will often be more successful than students who remain silent even when they are unsure of what is being asked of them.
Written Communication Skills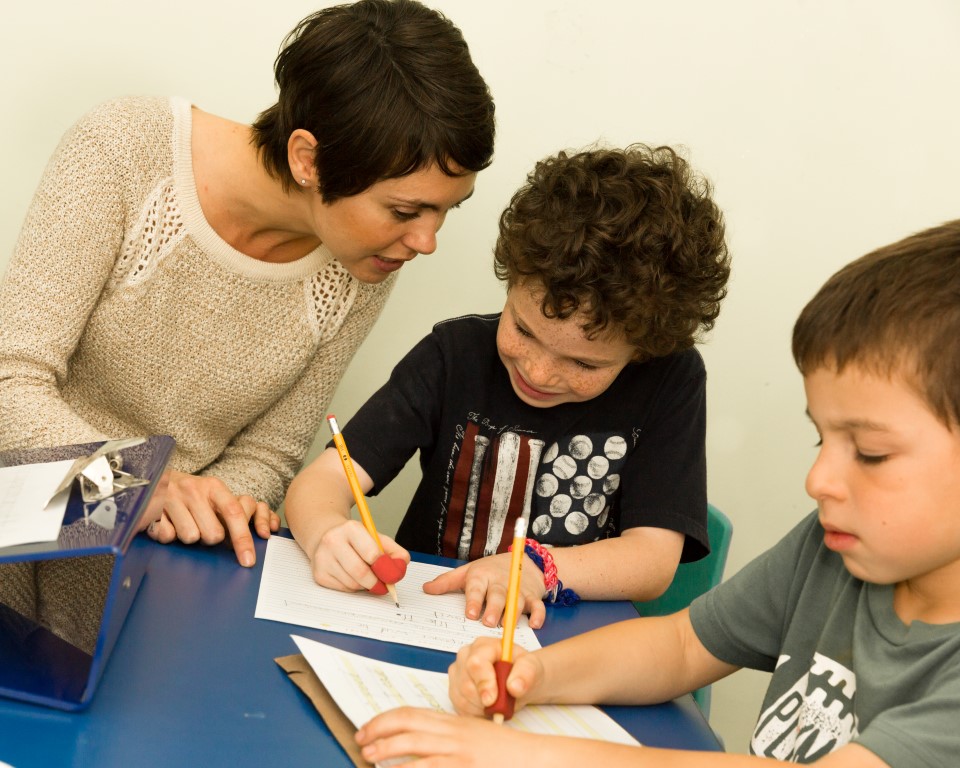 In addition to oral communication, a child must also develop the ability to communicate effectively with the written word. As students progress through the school years, they are expected to present more of their work in written form. They need to know how to clearly write arguments, summaries, hypotheses, and be able to synthesize complex ideas and concepts. Thoughts and ideas need to be expressed clearly, with effective use of tone and language for the intended audience. Composing a compelling essay is dramatically different than writing a text to a friend.

Treating Communication Disorders
While it is easier, more effective, and less costly to treat speech and language disorders early, in the toddler years, it is never too late to get treatment. If a parent has concerns about their child's ability to communicate, they should seek an evaluation by a speech and language pathologist.
With the support of a speech therapist and an educational therapist, students who struggle with the academic aspects of language can become stronger students and learn the communication skills they need to be successful in school and in life. ​
There is more to preparing a child for Kindergarten than many parents might think.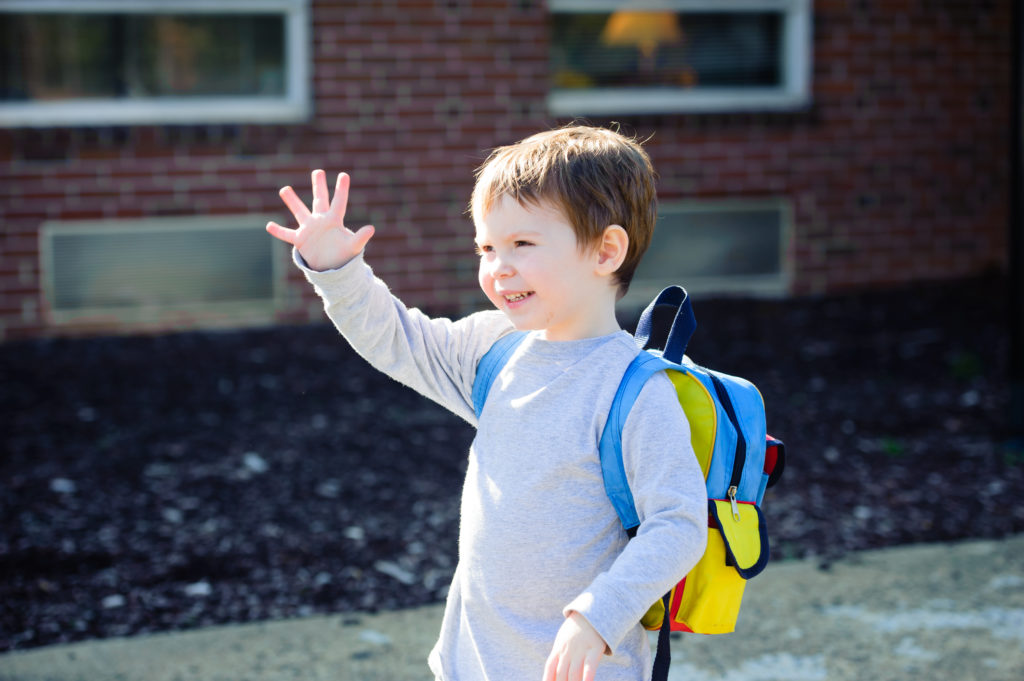 It is only natural for the parent of a pre-schooler to look forward to their child entering Kindergarten with excitement, pride and perhaps a tear or two. They grow up so fast, right? But what do parents really need to know about their child's "readiness" for Kindergarten?  In preparation for a smooth and successful transition to Kindergarten,  parents should first take a look at how their child has progressed developmentally.
Age isn't the answer.
Age is not an exclusive predictor of kindergarten readiness. While most children are developmentally ready to begin school at age 5, developmental strengths and difficulties vary with each child, and they pass through developmental milestones – physical, emotional and cognitive – at different rates.
What Should Parents Look For in Their Pre-K child?
Social/Emotional Regulation (Social Brain Building) – The kindergarten ready child will be able to communicate about thoughts and feelings, needs and wants, and use language to negotiate and problem solve with peers. He/she should be able to stay connected with peers for up to 30 minutes to play reciprocally. He/she will demonstrate independence in personal care. The child should be able to follow three step instructions, understand rules, and that actions have cause and effect. Most importantly, they will be ready to socialize and learn in a group environment.
A child must be able to walk into a situation and be able to observe and listen, then perceive what is expected of them. For example: a child walks into a classroom where other children are sitting and drawing. The child can then conclude that she is expected to sit and draw.
>Learn more about Social Brain Building
Executive Function – The ability to think as a "we" and follow directions, listen, attend, modify behavior and anticipate change, are the building blocks of executive functioning, a set of processes, or neurologically-based skills, that all have to do with managing oneself (mental control and self-regulation) and one's resources in order to achieve a goal. A solid foundation of Executive Function skills is imperative to all future learning.
>Learn more about Executive Function
Attention – The child should have the core strength and stamina to sit with a calm body, listen, watch, and focus on an activity for 15-20 minutes.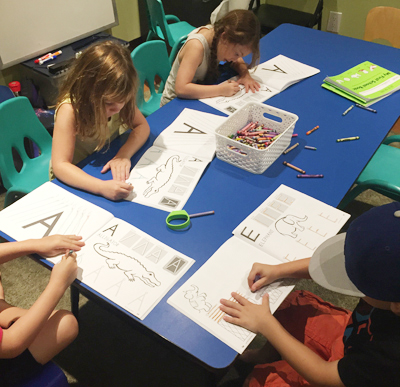 Pre-Writing Skills – A child's visual motor integration enables her to draw or reproduce what she sees, and is essential to learning to handwrite. A pre-K child should exhibit consistent hand dominance, dynamic tripod pencil grasp and ease in successful scissor manipulation. They should be able to legibly write their name and multiple upper case letters from memory.
Visual Processing/Visual Memory – Allows a child to give meaning to, and see similarities and differences in visual images, recall letter formation, and recognize subtle differences between letters such as "f" and "t".
Language Skills – Studies show that kindergarten teachers list communication skills as the most important indicator of a child's readiness for kindergarten. Language development supports socialization, participation and cooperation, literacy and learning.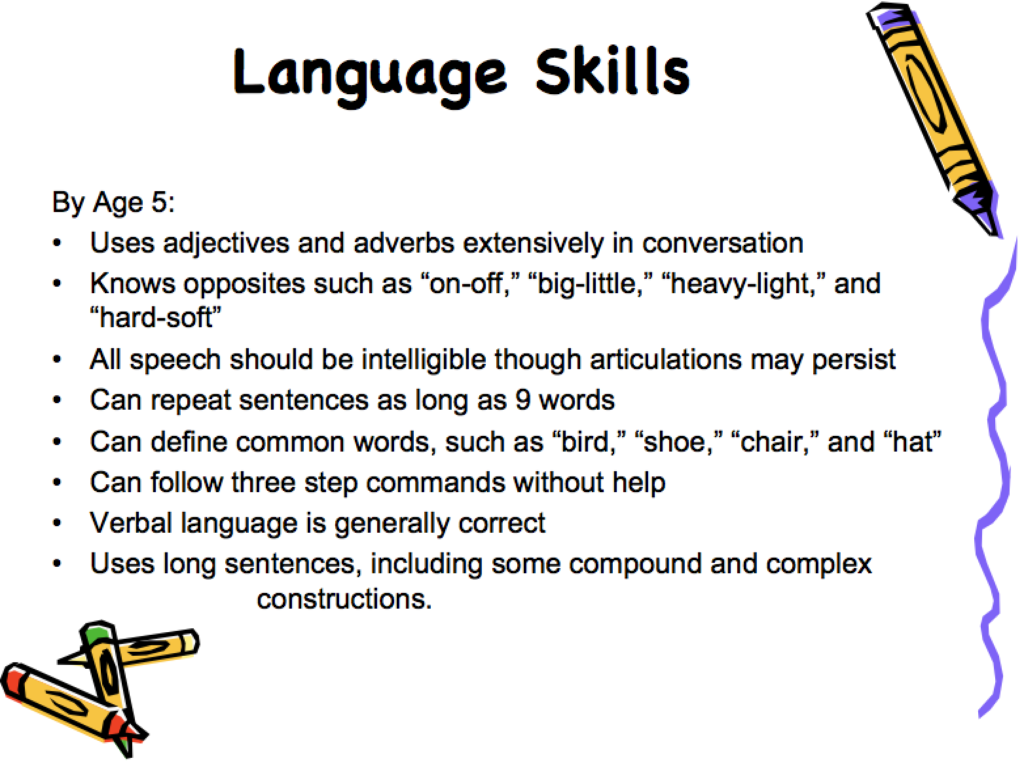 Literacy Skills – "Phonological awareness" is the awareness of the sound structure of words. For example, recognizing that the word "cat" can be broken down into individual sounds: "c-a-t". Phonological awareness in kindergarten is the single best predictor of later reading and spelling achievement.
Supporting Parents Preparing a Child for Kindergarten
It is important to note that approximately 1 in 5 children experience one or more challenges with behavior, communication, body movement and learning. While these challenges are common, each child's root issues can be vastly different. If your child is struggling in any of these areas as the transition to Kindergarten approaches, it would be wise to seek out a consultation or assessment with a pediatric therapist who can get to the root issue and facilitate a program of occupational, speech/language, educational or multi-disciplinary therapy.
What is a Kindergarten Readiness Program?
A Kindergarten Readiness Program is designed, with the individual child in mind, to best prepare him to successfully enter school and joyfully manage the "job of Kindergarten". Each summer, Child Success Center's Kindergarten Enrichment Camp helps children grow and acquire skills in areas of social learning, academic learning, gross and fine motor skill development, verbal communication, imagination and creativity. Our program is facilitated by learning specialists that understand different learning styles and can adapt the K-Camp experience to create the "just right challenge" for each child.
Through a social learning lens, mindfulness-based practices allow the camper to explore group dynamics, practice transitions and develop skills to monitor changes in the environment. Skills are added to their toolbox for attending, being present and listening with their whole body, while creating a foundation for emotional balance.
In addition to preparing kids for a successful entrance into Kindergarten, K-Camp is a great time for socializing, making new friends and having summer fun.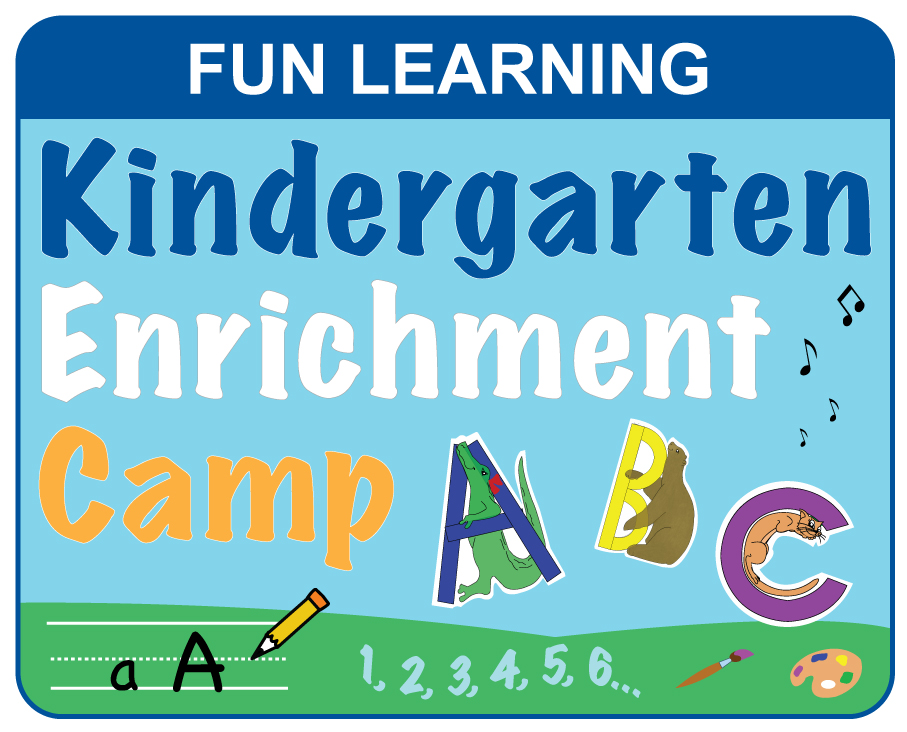 Your kindergartner or first grader works hard at school. Not only are there academic expectations, but your child needs  to self-regulate in order to manage the various social expectations. Whether following planned group activities, transitioning from one activity to another, using spoken language to share ideas, taking turns, listening when others speak, or managing big feelings and big energy, social brain building is imperative for success.
Your child wants to belong, feel connected, solve problems, share ideas and work within a group, but it doesn't always happen naturally. Often a child needs the "just-right" support for their individual make up, to be able to build the foundational skills of self-regulation and flexible thinking, then be able to put them into practice within a group environment.
Children who struggle with self-regulation and flexible thinking in kindergarten or first grade often enter the next grade level with anxiety or struggles with:
Making transitions
Managing big feelings and energy levels
Talking out of turn or grabbing
Negotiating and compromising
"Plugging in" to group plans and processes
Could your child use a boost in their Social Brain Building this summer?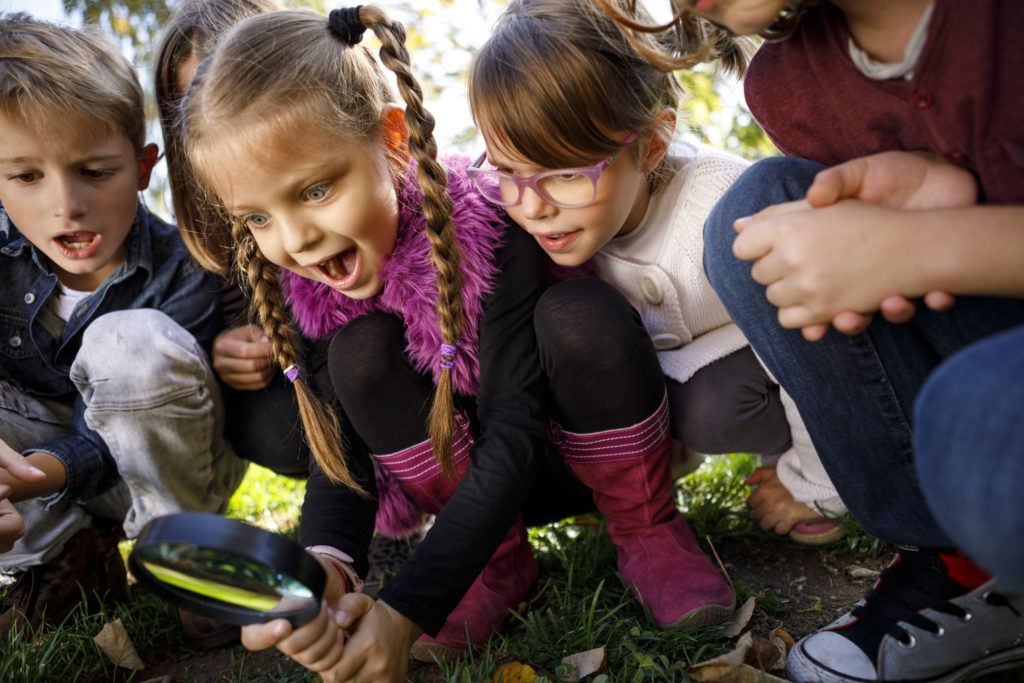 Child Success Center's social learning specialist, Patty Ramsey, LMFT, has designed a 2-week summer enrichment camp that will help campers gain the social skills and confidence they need for successful relationships in first or second grade.
With a plan designed and implemented by CSC's skilled and compassionate occupational therapists and speech and language pathologists, this summertime fun adventure will allow children to make use of their boundless imaginations and the power of play. As a team, they'll "create" their "campsite" and problem solve camp themed scenarios, like what they would need to pack for a camping adventure, how they'd get there, what they would do once they got there, what they would take to eat and what they would see.
Campers will use their imagination to guide them on their journey –
destination unknown – of fun, adventure and team building!
Are there resources available for parent support of social brain building at home?
Social Brain Building Summer Camp will provide visuals, activities, and education on key ways for parents to help support a child's ongoing social learning. Additionally, one parent education session,  presented by Patty Ramsey, will be available for more in-depth supports.

Learn more about Social Brain Building Summer Camp
Year round Social Brain Building and Friendship Club at CSC
post updated January 28, 2020
The little known sense, "interoception" might be the reason for common childhood issues with sleeping and potty training.
Interoception is the sense within the human body that enables it to experience, understand and react to the physiological state of itself. It has two main functions: body state and emotional state.
Interoception and Body States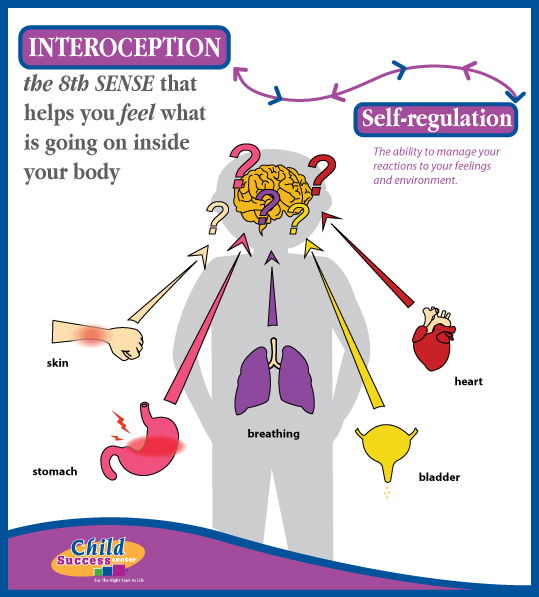 Body states involve the basic functions or physical conditions of the body and interoception allows us to feel and be aware of the inside of our bodies, including organs and skin. It is vital in helping us feel sensations such as pain, tickle, itch, body temperature, hunger, thirst, heart rate, breathing rate, muscle tension, pleasant touch, nausea, headache, sleepiness, and when we need to use the bathroom.
The ultimate goal is for our bodies to reach homeostasis, an internal balance of systems using the least amount of energy. When our internal balance, or homeostasis, is off, our interoceptive system signals our body to take action. For example, if we experience a dry throat and mouth, our interoceptive system, if working properly, will tell our brain that we are thirsty and we need to get a drink of water, which results in decreased discomfort and reduced dry throat and mouth. However, if our interoceptive system is not working properly, signals can be misinterpreted by our bodies, resulting in what presents as an "outburst," "tantrum," or "shutdown", agreeably inappropriate reactions to thirst.
Likewise, if our interoceptive system sends a signal indicating a full bladder and the message is not processed correctly, the appropriate response of heading to a bathroom might not occur. A chronic inability to react appropriately to a given signal can lead to emotional distress and compensatory behavior such as moodiness, nervousness or distraction.
Interoception and Emotional States
Emotional states involve our moods and the emotional conditions of our bodies. The interoceptive system helps us to regulate our emotions, identify our emotions, and determine how we view other's emotions. It helps us identify anger, embarrassment, happiness, anxiety, excitement, sadness, and fear. For example, a fast heartbeat, tingly stomach, and shaking muscles could mean you are anxious, while slow/rhythmic breathing and loose muscles could mean you are relaxed.
Our ability to self-regulate is closely tied to our interoceptive system. If our interoceptive system is working properly, we are aware of our internal signals (thirst, hunger, full bladder, heart rate, etc.) and able to guide our reaction to those signals. A person with poor emotional awareness could have an interoceptive system that is working inefficiently and therefore not providing clear body signals. Without clear body signals, they may not notice subtle differences in the way each emotion feels and can result in difficulty identifying and controlling those emotions.
Without clear and understood awareness of their internal state, it can be impossible to develop good self-regulation skills, therefore impacting a child's ability to successfully engage within their social and physical environment. Helping your child begins with learning about treatment options. Occupational therapy, with a focus on sensory processing and with the use of mindfulness activities, can help facilitate interoceptive processing and awareness.
Child Success Center offers many options in the way of treating sensory processing issues and building your child's interoceptive system. Call today to learn more about our individualized, peer-to-peer and group programs.
Learn more about Child Success Programs that support development of a child's interoceptive system…