"Social Skills" and Early Childhood Development
Social skills plays a significant role in learning development and the educational experience.
One might correctly assume that Social Thinking® (Attributed to Michelle Garcia Winner as creator of the Social Thinking Methodology) is the process by which we interpret the thoughts, beliefs, intentions, emotions, knowledge and actions of another person along with the context of a situation to understand that person's experience or perspective, and how to react accordingly. But Social Thinking® skills also play a significant role in learning development and the educational experience.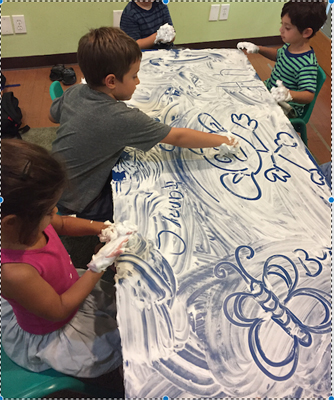 Learning instances can provide a number of potentially challenging "social" situations – group interactions, self-regulatory expectations, knowledge of body awareness, social exchanges and an understanding of listening. By using the social thinking model, we promote growth in areas that are critical for a learning foundation and are vital to successfully managing many life endeavors and day-to-day situations.
If a child is feeling socially uneasy, struggles to verbalize and identify needs, feels disconnected within a group or has trouble self-regulating, that child may find it difficult to learn and derive meaning from learning experiences. These situations arise daily for so many children, and if social skills are left un-addressed, a child can fall further and further behind socially and academically, creating loss of self-esteem and creative potential.
We expect children to enter into a multitude of situations, some new, some routine, and our goal is for them to have the skills to thrive and find themselves successful, comfortable and confident in doing so. Social thinking development provides this opportunity for success.
Child Success Center's Friendship Club is designed for the child, ages 5-8, who is having a difficult time navigating the social landscape of the classroom or group setting and/or building friendships. The program is designed to use a multimodal approach of positive reinforcement, flexible behavior systems, floor time aspects, mindfulness practices, and the Social Thinking®curriculum, "We Thinkers – Social Explorers™" for early learners.
This program, including its teacher or leader, is not affiliated with, nor has it been reviewed, approved, or endorsed by Michelle Garcia Winner and Think Social Publishing, Inc.